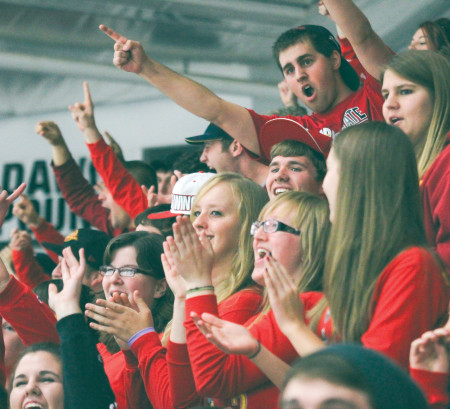 It's an intimate environment inside Ewigleben.
Long time hockey head coach Bob Daniels even told an interviewer in a video that Ferris has the best student section in the nation.
The student section, better known as the Dawg Pound, is one of the acoustically louder environments in college hockey despite its size. The low ceiling and close seating echoes sound violently, creating one of the toughest rinks in the nation.
Yet it's not just the team that benefits from the noise created by the Dawg Pound. Even the people in the booth feel it.
"It's not only the hockey team, but it's a big deal for Color Commentator Dan Kowalski and I too," radio and television announcer Dom Hennig said. "There are times where I've had to look at Danny and say 'We have to pick it up' when it's dead. When they're not rocking, we're not rocking."
The rink can be downright ugly to play in for opposing teams on loud evenings. Ferris State has knocked off some of the best schools in the country in the last few years on their own ice, including the University of Michigan and Western Michigan.
"I feel like it's a home ice advantage because it's a small arena and holds a lot of noise," co-dawg pound leader and sports marketing junior Joel Root said.
The students have been itching for hockey season since the semester started and they're about to get a sneak preview of the first season of the WCHA.
On Thursday, at 9 p.m. the Ferris State Athletic Department has put together the first Ferris State Hockey Icebreaker.
Season ticket holders can pick up their season ticket t-shirts, and learn the cheers. There will be free pizza and pop, courtesy of the Athletic Department, as well as tours of the hockey locker room and facility.
The event will also encompass free open skate beginning at 9:30 p.m. as well as the attendance of nine of the hockey players, who are yet to be named.
"If [their energy is] big to the radio guys, imagine how big it is to the team," Hennig said. "I'm not sure they even know how much they mean to us. And I may mention this to them on Thursday just so they know."
This season will be different in terms of teams that visit Big Rapids. While the most recognizable teams in college hockey may not return to Ewigleben this year, there is cause to believe it may be a similar season to last year in terms of noise.
Through Oct. 15, the student section sold out all but 15 of their season ticket packages. This comes after back-to-back years of seating expansion, all the way to 608 total student section seats.
The 15 season ticket packages remain on sale as of Oct. 15 in the hockey ticket office.