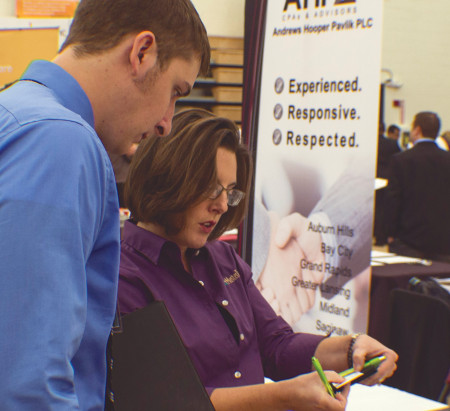 Companies have turned to Ferris State University to discover interns and employees during Ferris' annual career week.
Ferris junior majoring in advertising integrated marketing communications Kyle Srebinski knows people have received internships through the career fair.
"I haven't seen anything geared towards me yet, but I'm still going to walk around and talk to different employers," Srebinski said.
Challenge Manufacturing attended Ferris' career fair to find students that would be interested in internships or serve as long-term employees.
"The strength of the programs brought us to Ferris," Challenge Manufacturing human resources recruiter Heather Daniels said.
Ferris construction management freshman Ross Miller attended the career fair because it was required by his FSUS class.
"I think when I'm a junior or a senior it will apply more to me," Miller said.
Another company, ITW Drawform, has attended career week as an employer in the past.
"We've gotten quite a few of our employees from Ferris," ITW Drawform supervisor Len Stevens said.
Career week took place Oct. 14 through 18 and held different events to help students find employment.
Activities during career week included Career Bootcamp: Become a Job-Hunting Ninja in an Hour, Your 30 Seconds of Fame, Career Exploration Expo, Graduate School Fair, Career and Internship fair and more.
Employers held interviews with students from 8 a.m. to 5 p.m. on Oct. 18.
Employers included Republic Services, PolyFlex, Schlumberger, Proper Group International and more.