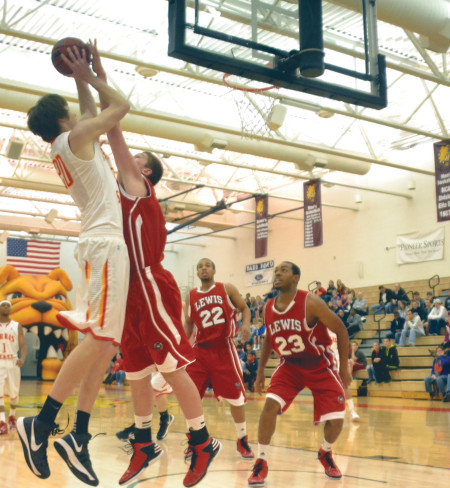 With the 2013-14 season approaching, the Ferris State men's basketball team will start a new era under head coach Andy Bronkema.
Bronkema, who has been the lead assistant to the team for the past six seasons, was tabbed Ferris State's 13th head coach early in the offseason following the sudden exit of Bill Sall.
Bronkema then hired Jim Lake as his assistant coach, with Bill Killian staying on as the team's volunteer assistant.
"It's been a good offseason and we have strong leadership," Bronkema said. "We are in an experimental stage, but you're gonna see guys that play with passion, playing an exciting brand of basketball."
This season, Ferris returns ten players from last year's club that ended the season with a 14-13 record, but there are a few noticeable faces missing.
The first two are  graduated standouts Kenny Brown and Daniel Sutherlin. An unexpected departure occurred when up-and-coming junior forward Trent Messer left the program to "seek a business opportunity," according to Bronkema.
To fill the vacant spots, the Bulldogs will turn to junior guard Drew Lehman and sophomore forward Josh Fleming, who are the probable starters at shooting guard and small forward, respectively.
Forward Raymoan McAfee, the lone senior on the team, is likely to see playing time at power forward.
To compliment Ferris' returnees, the Bulldogs added five new players in the offseason. Junior guards James Chappel and Matt Poches and sophomore forward Jayone Troutman arrived by way of transfer. Forward Robert Hudson and guard Kyle Oden are Ferris' two freshman that Bronkema mentioned will be redshirted for the 2013-14 season.
"We mesh really well, and everyone compliments each other nicely," sophomore center Jared Stolicker said. "We look solid; we're adapting to the new offense and coaching staff, and the preseason prepared us really well for the first week of practice.
At 6-foot-10 inches, Stolicker will help anchor a Ferris unit that ranked 13th in the GLIAC last season in points with 66.6 ppg. The Bulldogs hope to take a solid step up from last year's offensive performance, as the team now has no shortage of playmakers.
"We are beyond solid at every position, and I think that makes us a very dangerous team," Fleming said.
With a new coaching staff and an updated team regime, Ferris will compete for the GLIAC crown in the 2013-14 season. The Bulldogs will host Madonna University in their first exhibition game of the year on Thursday, Oct. 24, with tip off slated for 7 p.m.