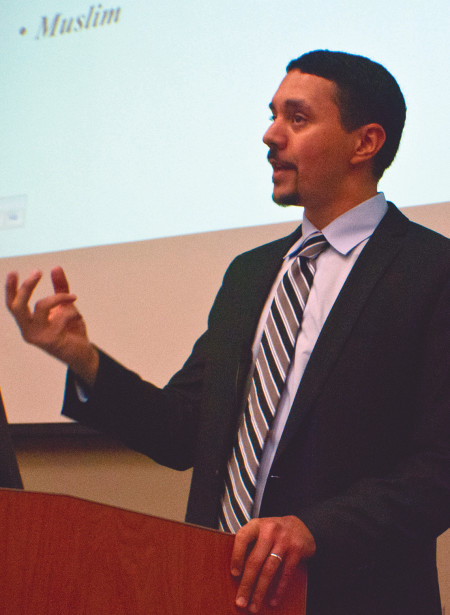 Dr. Mohammad Khalil taught students that Islam goes far beyond the common misconceptions.
The Big Rapids Library, FLITE, the Faculty Center for Teaching and Learning, and the Saudi Student Organization invited associate professor of religious studies, adjunct professor of law and interim director of the Muslim studies program at Michigan State University Dr. Khalil to speak at Ferris on Oct. 17. He led a discussion and lecture on "Islam, What everyone should know."
Khalil believes it is important to educate people on the religion of Islam because "ignorance can be dangerous."
"The primary meaning of Islam is submission or surrender to God," Khalil said. "Islam is the name of the religion, Muslims are the people."
The Islamic God is Allah and the Holy book is called the Koran.
"One of the claims we heard after 9/11 was the God of Islam has 99 names but none of them is love," Khalil said. "That's simply not true, in fact one of the names is 'the loving' and at the beginning of every chapter in the Koran there is this statement, 'God, the lord of mercy, the giver of mercy.'"
Islam is based on faith and good deeds; this is how Muslims can get to heaven according to Khalil.
"It has been said, 'No scripture stresses the afterlife more than the Koran,'" Khalil said.
Khalil explained that the head dress that many Muslim women wear was not seen as a symbol until modern times. Nuns, Orthodox Jews and others wear similar head dresses. Variations between families and personal beliefs determine if the women should wear the head dress or not.
A common misconception people have is that all Muslims must be Arabic. According to Khalil only 13-20 percent of the Muslim population is Arabic. Of the total Arabic population 80-90 percent is Muslim but Christianity, Judaism and other religions are practiced by Arabic's.
More than 65 people attended the discussion. Ferris nuclear medicine technology junior Morgan Hodge enjoyed listening to Khalil.
"Dr. Khalil's speech helped to banish the ignorance of the Islamic culture," Hodge said.