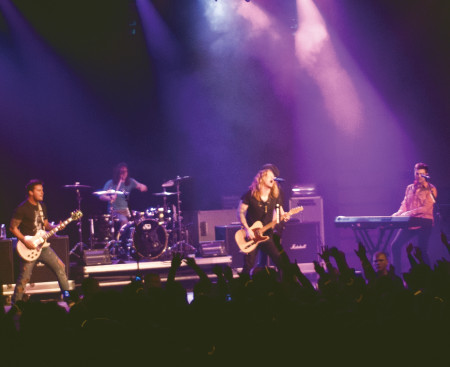 The Music Industry Management Association (MIMA) had big plans for this year's Autumn aLive – until the rug was pulled out from underneath them earlier this semester.
Over the past few months, MIMA had advertised this year's Autumn aLive as a festival experience focusing on Michigan music. There would be two stages and 4-6 artists from a variety of music genres. It was to be something far different than students had seen in the past and on a much bigger scale.
Those grand plans quickly changed.
Due to a sudden and unexpected lack of funding, MIMA was forced to use their own money to put on Autumn aLive, which severely limited the organization's options.
"What happened was this," senior Amanda Trigger, the booking agent for MIMA, said. "The university took back the money they had allocated to us. At that point we were left with money that we had in the program and money we fundraised. In [the university's] terms, they felt as though things weren't being followed the way they wanted them to be followed, which resulted in them taking the money back."
With the university rescinding the money they'd allocated to MIMA for Autumn aLive, plans had to be scaled down significantly. What had previously been a two-stage festival experience will now take place at The Gate, which was renovated over the summer. It's a much smaller venue than what MIMA and Ferris students are used to having for Autumn aLive.
"Because our funding for [Autumn aLive] was rescinded, we had to put the show on in a different form than we have previously," said Dan Cronk, the faculty advisor for MIMA and the coordinator for the Music Industry Management program. "It was necessary to change it from an arena experience to a club experience. Now that we're relying entirely on our own funding, cost is a major concern."
Despite the shift in size and scale of this year's Autumn aLive, the theme has remained the same: Michigan music. The concert will feature three bands from within the state of Michigan: Wilson, a rock band from Detroit, Kris Hitchcock and Small Town Son, a contemporary country band from various places within Michigan and Joe Hertler and the Rainbow Seekers, who describe their music as "authentic yacht rock."
"We wanted to celebrate Michigan music this year," said Trigger. "So we said 'let's try to find Michigan artists with different genres of music.' We want to appeal to the most amount of people possible by having different genres, but tie it all together by having them be Michigan-based bands."
Trigger also says the change from Wink Arena to a smaller setting like The Gate might be a
better choice in regards to the three bands at hand.
"We get to make this a more intimate experience," Trigger said. "I think that will be better for the artists, too, because they're not as well-known, so they're probably more used to playing on smaller stages as opposed to playing in a huge arena setting."
The Gate, which is hosting the event for the first time and has only recently come under new management, agreed to hold Autumn aLive to bring in a bigger crowd and get more in touch with the Ferris community.
"They've been great to work with, absolutely," Cronk said. "We always look for those circumstances where everybody can benefit, so if after Autumn aLive The Gate wants to collaborate again, we'd certainly welcome it."
Even with the loss of funding, Cronk and Trigger are very hopeful for this year's Autumn aLive. With the smaller setting and the wide array of genres represented, the concert still promises to be something very different than it has been in previous years.
"There is a learning experience to this," said Cronk. "Things like this happen in the outside world. Major concert tours have been cancelled for the same reason. It's not what happens to you, it's how you respond to it, and the group has been extremely proactive. The students are being far more creative in how they handle this situation. This has been a good turn of events. Nobody learns anything if everything goes according to plan. It's not a setback, it's a new opportunity; a breath of fresh air."
Autumn aLive will be held at The Gate on Nov. 1 at 9 p.m. Tickets can be purchased from MIMA members, in BUS 124 and at The Gate. Tickets bought before the night of the show will come with a raffle ticket to win gift cards to various Big Rapids businesses.