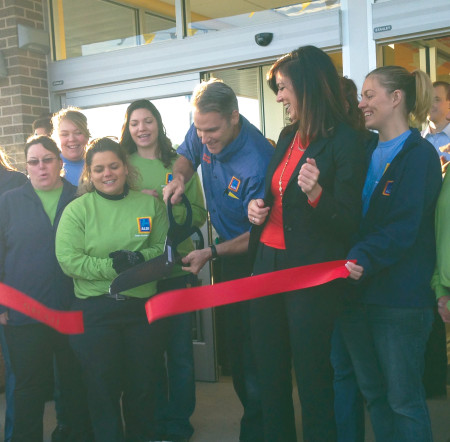 Community members lined up to witness the ribbon cutting and grab the first deals at the new Aldi grocery store grand opening.
The grand opening was held on Oct. 24 at the new store location at 21481 Perry Ave. Aldi is different from many grocery stores because they incorporate energy savings into much of what they do.
District manager Jennifer Johnson explained much of the savings come from smart business decisions.
"You put a quarter in the cart and you get the quarter back when you leave; it's one way that we can reduce payroll costs," Johnson said. "We don't staff people to run around the parking lot and collect carts all day. Any time you can reduce your costs like that we're able to pass the savings along through our prices."
Aldi also cuts costs by only accepting cash, debit or EBT cards to eliminate costs from credit card processing fees. They also have customers bring their own bag or buy a reusable bag from the store.
Ferris sophomore television and media production major Dallas Munger went to Aldi the day it opened.
"I thought it was pretty cluttered, but I don't really care about the clutter if they have good prices," Munger said. "It was new. It was a nice place."
Aldi Store Manager Dean Quiggle believes Aldi is a great store for college students.
"If you go to the competitors, you're going to find [similar] products, but ours are always going to be cheaper," Quiggle said.
Aldi has double guarantees, so if the customer isn't satisfied, they can replace the product and get their money back, according to Quiggle.
"You can walk out with a cart that's 40 percent lower [in overall price] than the competitors," Johnson said.