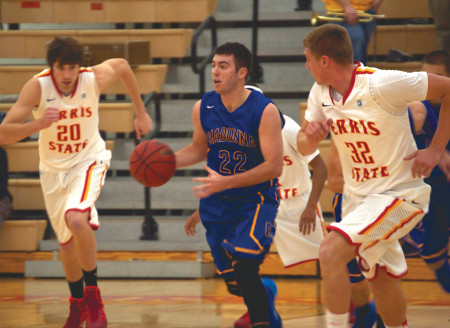 Former Ferris State basketball players will take the court Saturday evening as a part of Alumni Day.
Two games will be played, the first of which is alumni against alumni. The second game will be the alumni challenging Ferris men's basketball team.
"It's going to be a game-like atmosphere," Ferris men's basketball head coach Andy Bronkema said.  "The alumni will have their own locker room and head coach. It's a good opportunity for our team to play some of the greats of Ferris State basketball."
Ferris State Hall-of-Famer, Lewis Garner will coach the alumni. Garner tallied 1,437 points during his player career at Ferris (1971-75), including averaging 20.3 points per game as a senior.
As a captain and four-year starter, he averaged 13.4 points per game and helped the Bulldogs post an 86-24 record, including two Great Lakes Conference titles.
Coach Bronkema also said upwards of 25 Ferris basketball alumni will be in attendance for the games.
"This is a way for us to connect with the Ferris alumni," Bronkema said. "It gives our team a chance to connect and network with the alumni for job opportunities after graduation."
The event is free and open to the public. The first game begins at 5:30 p.m. on Saturday, Nov. 2. Ferris men's basketball will challenge alumni following the alumni game at 7:30 p.m. Both will take place at Wink Arena.