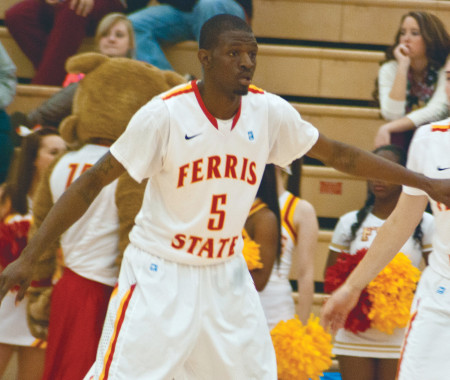 The junior transfer guard opens up on topics from changing schools to his favorite basketball players. With a 21-point debut under his belt, Chappell hopes help the Bulldogs to a winning season and a hopeful GLIAC championship. This is James Chappell, Off the Record.
Torch- First off, what's your first basketball memory?
James Chappell- My first basketball memory is trying out for the sixth grade team, but by me only being in the fifth grade, I could try out, but I couldn't make the team.
Torch-What's the best moment in your basketball career prior to college?
JC- One of my best moments was coming out my first game in my senior year in high school and hitting 40 points and being recognized over the radio for it. Pretty big moment for me.
Torch- What made you choose Oakland Community College for basketball?
JC- Well, Antoine Joubert [OCC Head Coach, former U of M guard] was a huge reason I chose OCC, but being recruited by Ferris out of high school, my ACT wasn't up to par, so OCC was my next move.
Torch- Growing up in Detroit, what place did the Pistons have in your family?
JC- I mean all of my family loves the Pistons because we're from Detroit, but no one really focused on it but me really.
Torch- Favorite Piston of all time?
JC- My era, 2003-04, Big Ben, Sheed, Big Shot Billups, Rip Tay-Tay. Awww man, but you can't forget about those bad boy days.
Torch-Not the same these days is it? At least Chauncey is back for a bit.
JC- Most definitely not the same, but they're building on something. Chauncey is about to retire as a Piston and he just wanted to come home to do it, that's all.
Torch- Fair enough. Let's step away from sports. What's the one thing not many people know about you?
JC- Not too many people know that I'm shy when it comes to meeting and getting to know new people.
Torch- One person from the basketball team you would take into a fight and why?
JC- I would take Milton (Cribbs) into a fight because he would be more aggressive than anyone to get the win like me.
Torch- Craziest thing you have ever done on a basketball court?
JC- In high school, AAU game, I had about 11 dunks in one game.
Torch- Wow, who's the greatest dunk man of all time?
JC- Back in the day, Shawn Kemp. Today, Blake Griffin.
Torch- One last question, with your last two years of eligibility, what do you want to accomplish as a Bulldog?
JC- I just want to win a championship – a ring – something to feel as if I've accomplished something throughout my years.