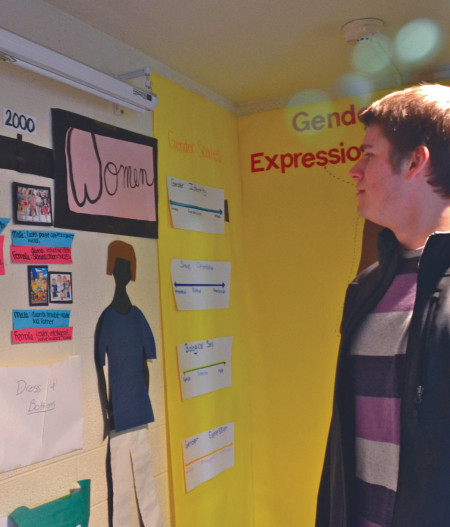 Taggart and Pickell Hall Director Emma Mentley said that blunt language shocked students at the "He. She. Us." gender exhibit.
The phrase "quit being a pussy, just man up" was one of many phrases plastered on the walls of Helen Ferris to teach students about gender in society.
From Oct. 21 to Oct. 23, students could walk through the gender exhibit hosted by the Housing and Residence Life's Harmony project.
The exhibit focused on male and female roles in society, transgender inequalities, drag and more.
According to a poster on the wall, the worst thing you can call a women is a slut, whore, bitch, skank, etc. The worst thing you can call a man is douchebag, girly, bitch, pussy, etc.
"Notice anything?" the poster read. "The worst thing you can call a girl is a girl. The worst thing you can call a guy is a girl. Being a woman is the ultimate insult."
Ferris senior Brandon Laninga is the president of the diversity sexuality and gender alliance (D-Saga) RSO on campus. He expressed how the exhibit of male and female inequalities made him think.
"It showed how men are favored in society and women are silenced," Laninga said. "This is shown through common phrases like 'stop being such a girl.' Phrases like this inherently insinuate that females are lesser by using their sex as an insult."
Students were encouraged to write about something on a piece of paper and pin it on the board.
"To me, being a woman means being independent, carefree and confident in yourself," a student said.
Disney characters were posted on the wall with talking bubbles of what they portray.
Ariel's said "I will give up everything for a man I just met."
Aladdin's said "I am a liar and a thief, but I am handsome and ripped, so forgive me."
The exhibit was interactive and allowed students to pin up items that they thought belonged to a girl, boy or both, such as paper dolls, trucks and flowers. Students could also step into a large cardboard box designed as a closet with the words "female" and "male" over the doors. A poster near the end of the exhibit told students their "drag" name based on letters in their actual name.
"Drag often takes the form of performing exaggerated gender expressions," a poster read. "Unlike cross-dressing, drag is about caricatures rather than authenticity.
"'He. She. Us.' brought to light the gender roles that society places everyone into and the results to those who do not fit into the traditional mold of gender our culture has created," Laninga said.
Mentley said that students are looking forward to the upcoming exhibits on body image and oppression.
"Gender stereotypes are prevalent throughout our society and in the media," a poster read. "These stereotypes affect the jobs we have, hobbies we take on and the way we view ourselves and the world around us."