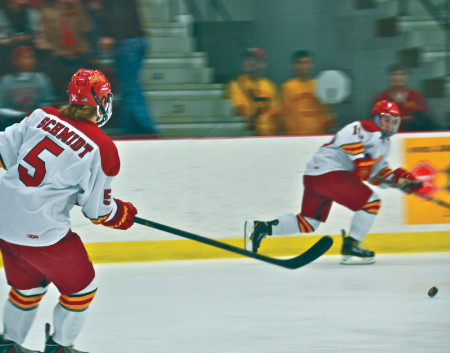 Ferris State hockey is riding a wave of momentum following a road conference sweep to start WCHA play.
The Bulldogs return from a weekend series at Alabama-Huntsville, where they bullied the Chargers in their own rink, out-scoring them 8-2 in their two game set.
Ferris found themselves down 2-1 late in the third period of the second game when freshman Kyle Schempp buried the tying goal moments after the Chargers took the lead.
"It definitely gave us a huge lift at a crucial time," junior forward Justin Buzzeo said. "It was good to see that we could respond quickly like that."
When asked about his youthful teammates like Schempp, junior forward Dom Panetta immediately praised the young group.
"They are an unreal freshman class," Panetta said. "I don't think we could have asked for a better one. All of them have such a great work ethic and it makes for great competition in practice."
Buzzeo continued his torrid start to the 2013-14 campaign by rifling home his team-leading fifth goal on a late powerplay to secure a Bulldog victory and sweep.
"I have to credit my start to my line mates [Garrett Thompson] and [Justin DeMartino]," Buzzeo said. "We have some good chemistry right now and it seems to be working."
Ferris State will turn their focus to a three-week home stand beginning with the Bemidji State Cougars on Nov. 8-9.
The Cougars sit alone atop the Western Collegiate Hockey Association, but have played two more conference games than the second place Bulldogs.
"It's very important," sophomore defensemen Zach Dorer said. "I think it's big for us to use our momentum from this last weekend to help us. We want to maintain a good start in the WCHA."
Bemidji State opened their conference play with an identical road sweep of the Alabama-Huntsville Chargers. The Cougars split their home series with Minnesota State on Nov. 1-2, winning 4-1 and losing 4-3, respectively.
The Cougars' offense has been spotty to begin conference play. Despite scoring seven goals in each of the past two series, that includes a one-goal effort. The Cougars' offense is hit or miss and the Bulldogs have one of the more stout back-ends in college hockey.
Junior goaltender CJ Motte started both games against the Chargers and remained unbeaten at 5-0-0 with his two wins. Motte also posted his first shutout of the season in game one.
Panetta netted the game-winning goal in the series opener, which was his first of the season.
"I hopped the bench as [Brandon] Anselmini was skating past and he dumped it on net," Panetta said. "I skated toward their net and the goalie left a juicy rebound for me with an open net. I took it thanked the goalie later."
The Bulldogs take ice at 7:07 p.m. at Ewigleben on Nov. 8 and 9 to face off with the Cougars.