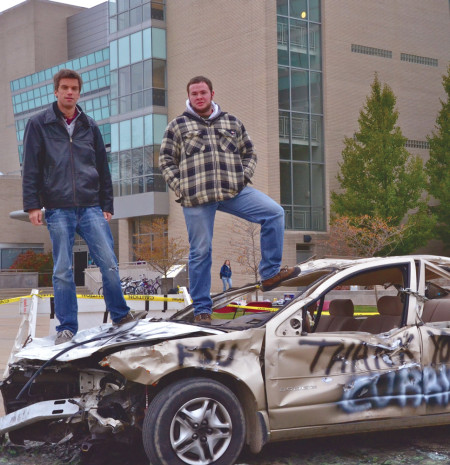 Ferris State University's Automotive Management Student Organization (AMSO) held a fundraiser Oct. 29 to raise money for Project Starburst, a local food bank.
Despite the cold and windy conditions, the event was a great success according to Ferris automotive management senior Anthony Roe. Roe and other AMSO members gathered in the North Quad from 8 a.m. until 5 p.m., encouraging students to relieve some stress by taking a swing at an old car.
With a $2 donation, students were given the chance to take a sledgehammer to a car, which was donated by Curries Towing.
Ferris pre-optometry sophomore AJ Lewandowski applauded AMSO for the unique event. "There is always some type of fundraiser going on, but this was so creative it's impossible not to take notice. It was a well-spent $2 and I'm glad it's going to a good cause," Lewandowski said.
Project Starburst is based in Big Rapids and serves Mecosta and Osceola counties. In September alone, Project Starburst distributed 38,960 meals. As a non-profit agency, they rely greatly on donation to provide for those in need of food and other basic services.
AMSO enjoys raising money and doing service projects within the local community, according to Roe. Another event the group participates in frequently is the Adopt-A-Highway program. On Sept. 28 the group was given a two-mile section of US-131 to clean. "It was very successful and we collected 23 bags of trash," Roe said. The RSO intents to continue their good works through other fundraisers this year, but details of their next event have yet to be finalized.