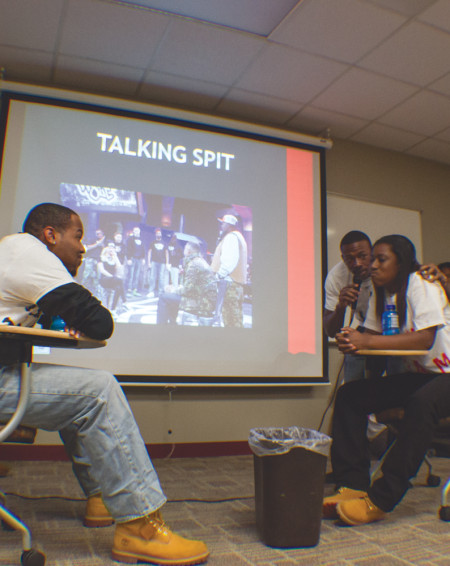 You Beautiful Black Woman looks to pump up the comedy jams once again.
Between EU comedians, Ferris theater and RSO events, comedy is one of Ferris's biggest entertainment exports. The YBBW Comedy Jam has become an annual standard.
The comedy jam, hosted by Grand Rapids' own comedian Dave Jones, will take place in Williams Auditorium on Saturday, Nov. 16, from 7 – 9 p.m. It is free for students and open to the public; however, adult supervision is advised.
"This event is brought to campus as entertainment to ensure that along with academics, Ferris students have the opportunity to have fun, too," Kiara Jacole, vice president of YBBW, said.
The featured comedian is Nema Williams, who is known for his acting up on stage, as well as his comedy. He has gone on tours across the world and appeared on multiple television shows, including seven turns on Comic View on Comedy Central.
Headliner Cocoa Brown is known for being an extremely talented comedian, actress and performer. She has acted alongside Samuel L. Jackson, and is now starring in Tyler Perry's new comedy series, "For Better or Worse."
"It's a fun event and it just brings more than one comedian on campus," Jazmine Goode, president of YBBW and junior in criminal justice, said.
Normally, there would be three comedians and a host, but Goode explained that due to budget, they had to cut back. One way to make up for the allotted time is having Ferris's Epitome Dance Group perform.
The Comedy Jam isn't the only event YBBW will be hosting. A whole week of events will build up to the weekend comedy showcase.
Some events include Wild N' Out and Don't Forget the Lyrics, but Jacole explains that her favorite is a tie between the Phenomenal Woman Pageant, where they give out their annual scholarship, and the Hustle Fest, where students can come and learn how to do the ballroom hustle.
YBBW does much more than bring fun events to campus, though. It is an organization composed of women from different backgrounds with the intent to unify and encourage lifelong friendships.
This comedy jam is their largest event. Goode explains why they have chosen to bring it back four years in a row.
"The organization wanted to bring in multiple and diverse comedians for one event on one night," Goode said. "[Students] can come and relax and enjoy themselves."