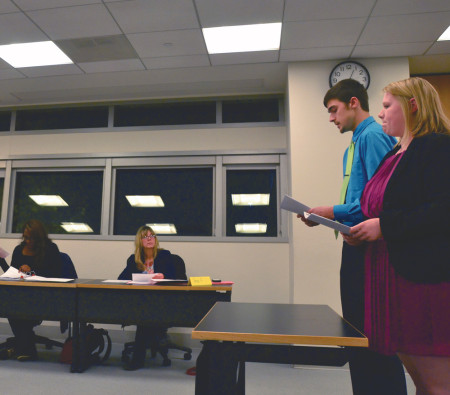 Currently, if a registered student organization breaks rules under "extenuating circumstances," it may appeal to the finance division.
The finance division discussed multiple revisions to their governing document, Rules of Appropriation and Allocation (RAA), including changing the words "extenuating circumstances."
"[Extenuating circumstances creates a] divide based on own personal discretion," said Student Affairs Operation Analyst and Finance Division Adviser Deanna Goldthwait.
The finance division said words such as unusual, extreme and unforeseen may be clearer than "extenuating circumstances."
They will present all RAA proposals to the general assembly of student government in late November.
The finance division worked through half of the RAA during its meeting on Thursday, Nov. 7 and will finalize the remaining proposals on Nov. 14.
Ferris senior marketing major and President of the American Marketing Association (AMA) Samantha Lantvit and Ferris junior marketing major and Vice President of AMA Anders Johnson requested funding from the finance division.
The finance division approved AMA's request of $2,000 for the annual International Collegiate Conference in New Orleans in April 2014.
According to Lantvit, students attend competitions and speakers during this conference and bring back their experiences to campus.
Last year AMA attended the conference and finished in the top 16 out of more than 350 AMA chapters for their chapter plan submitted at the beginning of last year.
The total cost to bring 16 Ferris AMA members to the conference is $14,700.
Lantvit said AMA has fundraised through t-shirt sales, Buffalo Wild Wings Blazin' Wings Challenge, bowling tournaments, can drive, Yankee candle sales and more.
"You build long-term relationships with the people involved in this conference," Lantvit said. "It is so competitive in many ways but in a positive way. Everyone is helping out other chapters to become better as an organization and as professionals."