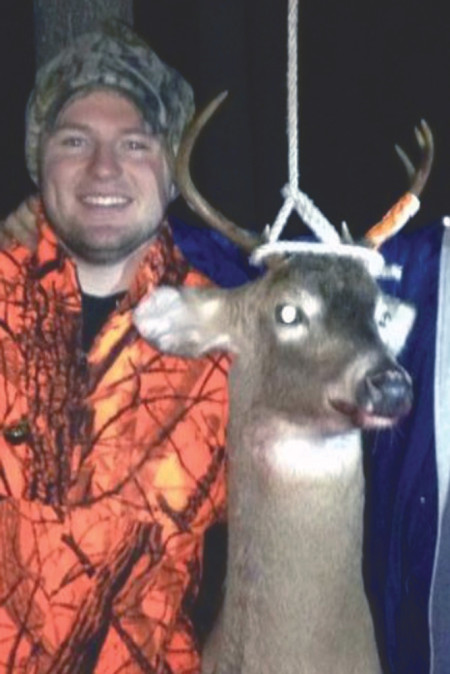 With Michigan's 2013 rifle hunting season right around the corner, many are planning to take their next monster whitetail buck.
It's time to lace up the boots and clean the barrels as this year's hunting season reaches its twilight. Nov. 15 marks the opening day of Michigan's regulated rifle season, as many will flock to the woods dressed in camo and orange looking to put brown down.
This year's deer hunting season is already in full swing as the archery portion of the legal hunting year started on the first of October, but it is the rifle season that draws a major influx of hunters, including many Ferris State students, to the deep woods of northern Michigan.
"I have been to three different colleges, and Ferris definitely has more hunters, and hunting comes up more in conversations," Ferris fifth year pharmacy student Jordan Seeger said.
Seeger will be hunting in a swampy area in Mason County this year with his Winchester .300 magnum and will not be baiting during the rifle season.
"You just have to be a lot more patient this year," Seeger said, "and make sure to scout."
The state's rifle season runs through Nov. 30, with extended muzzle-loader hunting spanning through the middle of December, depending on which hunting zone you are in. Opening day of rifle season has attracted thousands of outdoorsmen and the proverbial "flatlanders" to small, wooded towns and stretched state owned land as they hope to bag the big one.
"I have seen more casual hunters become outdoorsmen and also conservationists, as more people are getting into food plots," Brent Vetter, Big Rapids MC Sports outdoor center department head and senior in Ferris's mechanical engineering technologies program, said. "I have also heard of people hunting bigger deer, in antler rack size, this season."
Michigan's rifle season is scheduled at this time of the year to coincide with the whitetail "rut." The rut is the time of the season where bucks make their big push to find mates and procreate with does. This is a crucial time of year for deer as the bigger and more dominant bucks will be most active in their search for mates, making it one of the greatest times to hunt Michigan whitetails.
One of the most notable changes this season has been antler point restrictions in most counties in the north-west part of the Lower Peninsula. Any buck harvested in the 12 counties, including closer counties to Ferris like Osceola and Lake, have to have at least three antler points of one inch on one side. This new regulation ensures that most bucks shot are of a healthy age and size, limiting the amount of one and two-year-old bucks taken.
"I really just hope everyone is safe and practices the new antler restriction laws," junior in elementary education and lifelong outdoorsman, Zack Griffin, said. "My advice would be to be patient and sit all day, because you never know when a big one might make a mistake. Shoot straight!"
Griffin, who currently resides in Osceola County just north of Big Rapids, will be hunting this year with his family's passed-down 30-06 Remington 7600 rifle and will be sticking to hunting traditions as he baits with corn and sugar beets during the rut.
With every hunter having their own baiting tricks and techniques, a few traditional luring guidelines always apply. Always have a food source available to the deer, be it a pile of carrots or salt lick block, and the use of scents like doe urine and doe estrus is almost a must during rifle season, as it will help lure the next monster looking for a mate into the range of your crosshairs.
As the 2013 rifle season gets underway, let's all wish for a safe and successful hunting adventure for all who venture into the Michigan woodland. Happy hunting!