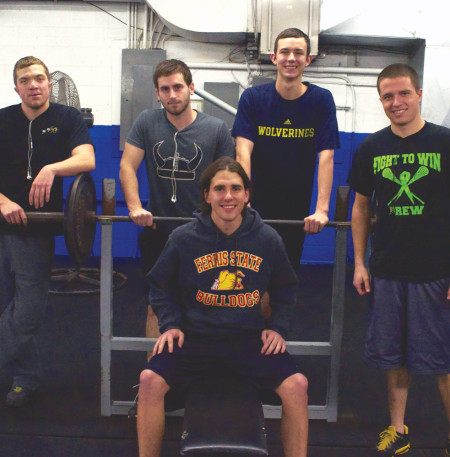 This year, junior pre-pharmacy major Taylor Pike is more thankful than ever to spend the holidays with his family.
Three weeks ago, Pike's heart stopped while he was working out with a group of friends at TNT Gym, located in downtown Big Rapids. Doctors said he was "dead" for nearly four minutes, according to Pike.
"Never did I ever think I would have a heart problem," he said.
The group's workout on Oct. 28 started out like any other afternoon at the gym with Pike pumping iron on the bench press. After finishing his sets, he stood up and got a drink of water. Pike can't remember what happened next.
The next memory Pike has is talking to his workout buddies who came to visit him in the hospital two days later.
Criminal justice sophomore Anthony Kupser recalled Pike walking over to the cable machine to set up for the next exercise. The next thing he knew, his friend was slumped against a pole and unconscious.
"A bunch of people around saw him and thought that he had popped his shoulder out of place," Kupser said. "He was kind of stressing on it, and then all of a sudden, he just dropped. Everyone was freaking out."
Bystanders, including Det. Sgt. Casey Nemeth, jumped into action immediately. Gym owner Jeff Tift called 911 while Pike's friends searched for his EpiPen. If triggered, Pike's severe peanut allergy can cause similar symptoms.
Nemeth told the Pioneer Pike "was out of it, his face was purple, lips were blue and he had no heartbeat."
Another bystander, Tara Diem, started chest compressions but Pike still wasn't breathing, according Kupser.
Big Rapids Department of Public Safety first responders soon arrived. Diem continued CPR while Capt. Randy Bell, a DPS firefighter, prepared the LUCAS 2, a battery-powered CPR device.
The device was purchased in October and Pike's incident was the first time DPS had used the LUCAS 2 in an emergency situation.
The LUCAS 2 Chest Compression System administers uninterrupted compressions at a consistent rate and depth to facilitate the return of spontaneous circulation. While the average person can only give compressions for two minutes, the LUCAS 2 can go on indefinitely.
An ambulance took Pike to Spectrum Health Big Rapids Hospital, and he was later transferred to Spectrum Health Hospital in Grand Rapids where surgeons installed an implantable cardioverter defibrillator.
Today, Pike is "trying to get back to normal" but tires easily.
Although Pike's mother and doctors wanted him to rest at home, Pike returned to school to finish out the semester.
"I'm kind of killing it in organic chemistry, and I didn't want to give that up," he said.
As much as he enjoys school, Pike "can't wait to go to town on all the food" and is looking forward to some downtime over the holiday breaks with family.
"I took it a little bit too much for granted," he said. "Now, it's something I really cherish. I feel really thankful to be alive and able to see everyone."