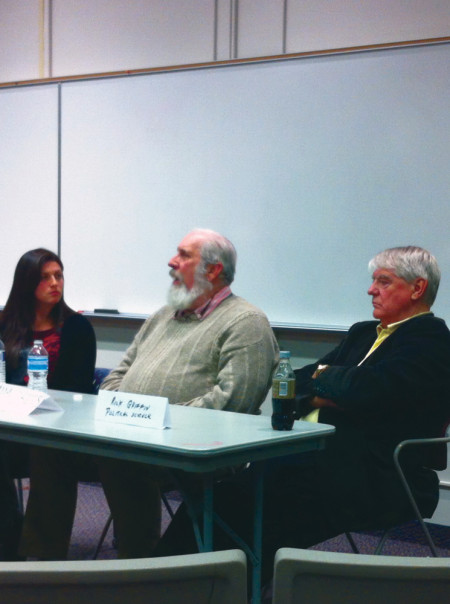 The Political Engagement Project (PEP) hosted its third panel discussion of the semester regarding students' first amendment rights on Nov. 12.
Ferris political science professors along with representatives from the Torch and the Pioneer discussed the importance of freedom of assembly and press and restrictions that go along with it.
The First Amendment of the United States Constitution protects the freedoms of expression from government interference.
Political science instructor Christine Bailey said the freedom of press offers independent balance.
"If you silence an opinion, you silence the truth," Bailey said.
The purpose of PEP is to increase political awareness and involvement among undergraduate students.
Associate Editor for the Pioneer Whitney Gronski-Buffa talked about the importance of journalists in society and the role they play. She relayed the importance of knowing "what our neighbors are doing."
"[Freedom of the Press] preserves freedoms for everybody," Gronski-Buffa said.
Editor-in-Chief of the Torch Alex Wittman discussed the three things on which the Torch was founded as well as the importance of readers writing letters to the editor and pitching story ideas.
"Our objective is to report the truth objectively," Wittman said.
Phase I of PEP enhances student political engagement through individual courses. Phase II achieves that goal on a campus-wide basis. Ferris is one of eight institutions in the United States selected to participate in Phase II.
Aggiee Kiss, a speaker from Hungary, will be holding two presentations at Ferris, sharing her experience with all freedoms and how the Soviets wouldn't allow them in Hungary.
Kiss's presentations will take place at 7 p.m. on Nov. 25 and Dec. 3 in BUS 111.