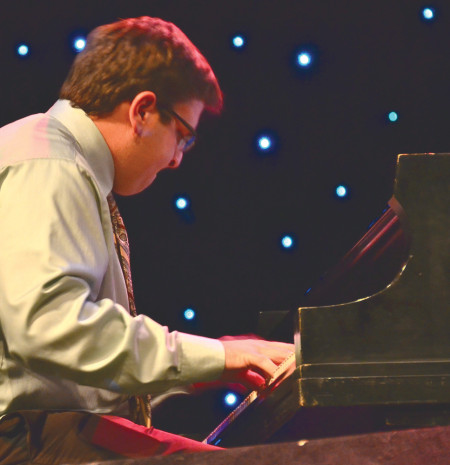 Ferris junior Doug Reed is jazzing up the Big Rapids music scene.
A double major in accounting and finance, Reed has been playing the piano for 15 years. He lends his expertise to multiple jazz bands in the area.
"My parents started me on it," Reed said. "I didn't like it, but it paid off."
That payoff has been performing in multiple jazz bands. Chief among those are the Ferris State jazz band and Reed's own jazz band, the West Michigan Swing Kids. The former performed for a crowd last Wednesday in Williams Auditorium and the latter performs in the Howard City and Cedar Springs areas.
"Doug brings a strong sense of the jazz style to the group, as well as being a model band member – punctual, learns music fast, good attitude," Matt Moresi, Ferris State's Jazz Band director said. "Having him, among many others that are versed in the big band language, makes putting our music together faster."
Last Wednesday's jazz band performance was marked by a theme centered around Miles Davis, the legendary jazz pioneer.
"He was one of the most talented and influential musicians of the twentieth century," Moresi said. "I picked him because of his contributions to jazz, as well as the fact that many in the audience would know who he was."
Though Reed wasn't a big fan of Davis initially, he came eventually came around.
"I've gotten to like the music," Reed said. "We choose different sorts of music and we find the parts we like about it.
Reed appreciates the variety of music Moresi selects for the jazz band.
Reed listed off a number of other luminaries when counting off some of his favorites, though, names that will be familiar to any student in Harry Dempsey's American Pop Music class.
"I like listening to older swing jazz from the thirties and forties and I'm a huge Elvis fan. Jerry Lee Lewis, BB King, those older guys. Ray Charles was a good one," Reed said.
Though music is a passion, Reed looks to the future with a practical eye. Double majoring in accounting and finance is no easy task, and he looks to apply that in the future.
"Really I'd like to get into finance or be like an economics professor," he said. "Either financial investments or go further into economics. "
The Ferris State Jazz Band will perform once more on Dec. 3, accompanying the choir in the Christmas concert.