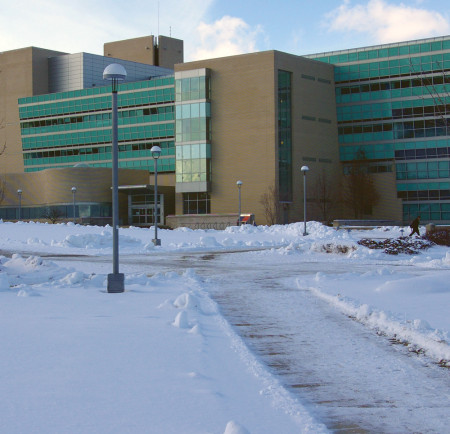 Winter is a time to get together with friends and family in an effort to create new memories and celebrate old traditions.
Every year, when they wake to the first big snowfall, kids will rush outside to build the first snowmen and snow forts of the year, or possibly to chuck a few snowballs.
The rest of us will get a chance to reflect on our memories of doing those very same things, perhaps sipping some freshly made hot chocolate with those little marshmallows, of course.
"I miss being young and playing with my brother out in the snow on snow days. Making snow forts and mazes was the best," pre-physical therapy senior Nyssa Swanson said. "We would also have epic snowball wars with other kids in our neighborhood."
Ferris marketing sophomore Alexis Huntey also recalls memories with her siblings many winters ago.
"I can remember sledding with my brothers and sister down my aunt's big hill and my grandpa pulling us back up the hill with his snow mobile, Huntey said. "My brother had to save me from going into a ditch sliding down a hill that year."
For public relations junior Kaitlyn Baase, sledding is not something she takes lightly.
"When I was in high school, my friends and I would have sled wars," Baase said. "Your mission is to run each other over with sleds. It was really fun and competitive."
She even mentioned a time where they put butter on the bottom of their sleds to make them go faster.
Sports marketing junior Josh Sweedyk still braves the cold each winter for his love of ice fishing.
"My favorite thing to do during the winter is ice fishing," Sweedyk said. "It is definitely harder to ice fish than regular open water fishing, but it is that challenge that makes it fun."
His love of the sport has even turned into an annual tradition.
"I hold a weekend ice fishing trip at my cottage up north with my friends," Sweedyk said. "We have been doing it for 5 years now, and it is an extremely fun time."
Some don't appreciate the cold weather each winter brings and prefer to enjoy the season curled up inside.
"My favorite thing to do in the winter is put on really warm PJ's, drink hot chocolate and watch corny Christmas movies," Baase said. "It really gets me excited for the holidays."
For Huntey, family traditions are a strong sign of the winter season. Each year, the women in her family get together to bake cookies around the holidays.
Swanson also shares a love of baking around this time of year.
"This is going to make me sound like an old lady, but I love baking and crocheting," Swanson said. "This is something my mom and I always used to do when I lived at home, and it's something that I like to do at college when I'm thinking of her."