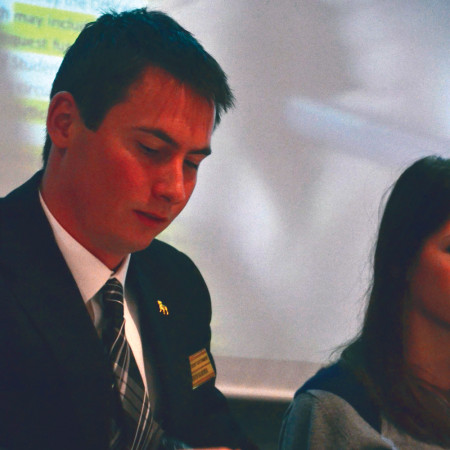 Just as the snow begins to change the scenery of Big Rapids, the spring semester is coming with many changes of its own.
Students will see a shift in their governing body as a new student government president prepares to step in for the spring semester.
Stevensville, Mich. native Andrew Kalinowski was inducted as student government president on Dec. 3 replacing Erin Williams.
A professional golf management and accounting major, Kalinowski plans to increase student involvement with student government this year.
"Some students across campus don't really understand what student government does," Kalinowski said. "[Student government is] the connection between the student body, faculty and the community."
Kalinowski spent the fall semester in Washington, D.C. on internship with Bill Casper Golf, which operates more than 140 golf facilities coast to coast. He stayed in touch with student government members while he was away to prepare for his role of president when he returned.
Erin Williams, the fall student government president, won the election in May with Kalinowski on a split ballot assuming the position in November after she graduates in December.
Williams said she used to look up to Kalinowski during her time in student government.
Kalinowski plans to implement four ideas during his role as president.
"I want bring more leadership opportunities to not only student government members but to everyone across campus," Kalinowski said. "The second thing I want to work on is collaboration. I really want student government to collaborate even more with different organizations across campus. I really want to increase communication between student government and the rest of campus [and] increase participation."