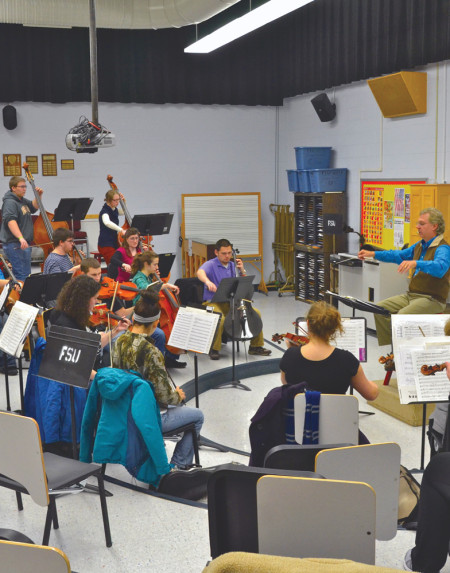 Christmas songs are on every radio station and everyone's sipping on peppermint mochas. The holidays are here, and so is the annual Ferris and community holiday concert.
The concert will take placeon Dec. 8 at 4 p.m. in Williams Auditorium. For the sixth year the concert will be partnered with a local charity to support Mecosta County area families. The Salvation Army is this year's sponsored charity.
The concert, this year dubbed a "Symphonic Santa Sunday," will feature holiday music and entertainment. The West Central Chamber Orchestra (WCCO), West Central Concert Band (WCCB), and the Symphony Band will perform under the direction of Dr. Scott Cohen.
"It's meant to be a real town and gown thing," Cohen said. "Get everyone here on campus in the Christmas mood and forget finals for at least one hour. Have the community come in, too. Some holiday cheer."
Adding to that holiday cheer will be Santa Claus and Ferris regular Dynamite the Clown, who will be passing out candy at the concert's midway point as the bands perform "Santa Songs."
Pre-show entertainment will also be available in the lobby, with Santa, a trumpet ensemble, harp and viola eager to delight early attendees.
Cohen and his musicians made special note of how the music unites campus and community, with about half the WCCO and WCCB being made up of community members. Some of those community members even go a step beyond performing.
"We have a clarinet ensemble, too, going to play an arrangement of Christmas carols. That was done by Bob Garrels," Cohen said. "He's a retired Lutheran pastor and he does really nice arrangements. He's done one almost every year for the last number of years."
The concert will feature a mixture of religious and secular Christmas songs and carols, with such selections as "A Charlie Brown Christmas," "Holiday Hoedown," and a Trans-Siberian Orchestra piece.
The concert will be quite the undertaking, as clarinetist and Ferris elementary education junior Caitlin Woolen explained.
"There are seventy people in each band," Woolen estimated. "We don't include the choir anymore."
The large numbers are music to Dr. Cohen's ears, though. The professor and director takes pride in music at Ferris, where the closest thing there is to a music major is the business-oriented Music Industry Management program.
"We like to do a lot of stuff that engages us with the community, because that's what music here is about," Cohen explained. "It's not about becoming a professional. It's not about having to do sinister things to your stand partner so you can beat them. It's about continuing to make music and providing live music for people in the community to make and enjoy. We call that 'music for life.'"