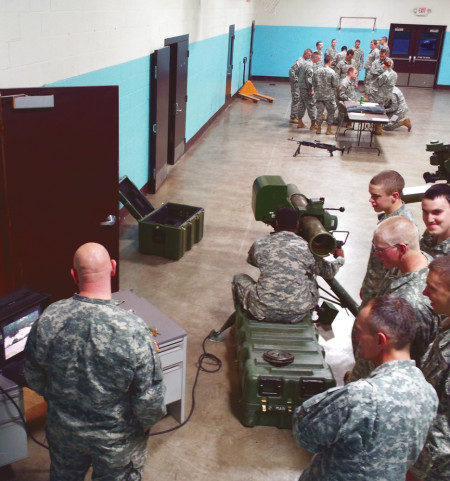 Not many students have stood in a room full of weapons and heavy artillery, but for many Ferris ROTC students, that can be considered a normal occurrence.
Army Reserve Officers' Training Corp (ROTC) is a leadership course that teaches students how to lead, motivate and problem solve. It offers various scholarships and financial incentives for students, too. And sometimes, it allows for students to handle very big guns.
Ferris ROTC students met for their yearly Cadets Weapons Lab on Nov. 21 to learn about the weapons they will eventually use and encounter while on the job.
ROTC members learned the specifics of each weapon, speed of the artillery each weapon shoots and how to handle the weapon if the they encounter one in battle. In addition, all of the students had a chance to hold the weapons and get a feel for them.
There were countless weapons filling the room, ranging from military grade shotguns and pistols, to machine guns and grenade launchers.
"[My favorite is] probably the Mk 19; it can do some damage," criminal justice major and member of the National Guard Josh Camiller said.
Camiller organized this semester's Weapons Lab for the ROTC class. Camiller gave the rundown on the largest, most threatening weapon in the room, the TOW missile.
The TOW Missile, or Tube-launched, Optically-tracked, Wire command-link guided Missile System, is new to the Weapons Lab this year. The missile was set up as a simulation for students. Each student had the chance to take the reins and shoot digital cars and tanks on a television that was set up by the system.
The TOW Missile was heavy equipment major and member of the National Guard Logan Bontrager's favorite weapon out of the bunch. This was the fourth Weapons Lab that Bontrager has attended since coming to Ferris.
Bontrager enjoys getting hands-on with the weapons and has learned much since starting in the ROTC program four years ago.
"Overall I think it's a good program for anyone because whether or not you plan on going into the military or anything, you'll get leadership skills and everything here," Bontrager said. "Employers want that."