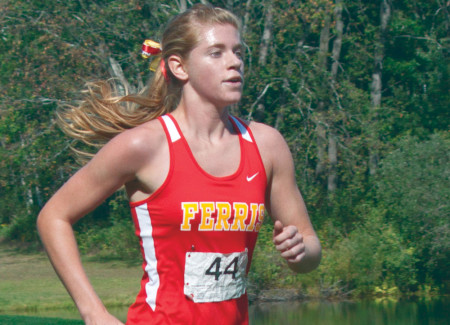 Setting records left and right since her freshman year, senior cross-country runner Samantha Johnson is one of the best runners Ferris State has ever seen.
The Troy native's recruitment was plain and simple compared to other college athletes. She already had a tentative plan of what she wanted to do after high school.
"My senior year I knew I wanted to go into pharmacy school," Johnson said. "The other schools I was looking at were way too close to home, so Ferris was my main option. My high school coach and other varsity girls on my team influenced me to start thinking about running in college. My coach contacted the Ferris coach and he began recruiting me."
Johnson started out strong as a Bulldog to prove her dedication to running to her team and coach.
"My freshman year I was ninth in the nation for the mile and twelfth in the nation for the 1500 meter," said Johnson. "My sophomore year I was tenth in the nation for the 1500 meter."
Johnson has made it to nationals every season while running for Ferris and has performed extremely well, despite her junior year when she suddenly got sick.
"My junior year I was third in the region for cross," Johnson said. "Nationals did not go well due to severe bronchitis, though."
However, her senior year would be different. She picked things back up and was able to achieve what every collegiate runner's goal is; to win and become ranked within the nation.
"This past season I have had three wins and was fifth in the nation in cross," Johnson said. "I currently hold the record for the top female finisher at cross country nationals at fifth place."
Johnson holds impressive personal records she has maintained as her seasons improved at Ferris.
Johnson's best mile is 4:55, her 1500 meter is 4:27, 3k is 10:03, 5k is 17:13 and 6k is 21:01. This year she took fifth place in the nation in the women's 6k, which was another Bulldog record broken by Johnson.
Reflecting upon her running career, Johnson is pleased she chose to run at Ferris because of all the opportunities.
"Ferris not only has my program and is far away from home, but it is the perfect size," Johnson said. "I like being on a smaller team because I was looking to travel and compete, so bigger is not always better."
Johnson finished her last season strong and will hold many records she has made as a Bulldog.