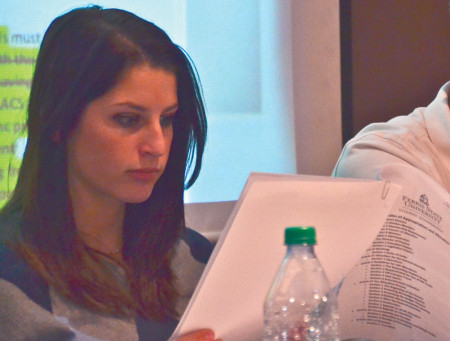 After the shock of transitioning into Big Rapids life from Metro Detroit, Erin Williams learned how to adjust.
A Macomb county native and fall 2013 student government president, Williams was the first child in her family to leave the busy Detroit area to pursue an education at Ferris State University.
"Coming from where I have three malls right around my house to Big Rapids was a wallet saver," Williams said. "It definitely took some adjusting."
Williams became very involved at Ferris, leading campus tours and devoting much of her time to student government.
"What I've learned in the classroom and outside of the classroom has helped to develop me as a leader in my learning capability," Williams said. "Immediately I jumped into every [student government] committee I could. I helped host the five star event 'United We Stand, Divided We Fall,' which was very successful."
Williams, the self-proclaimed introvert, took on a role quite contrary for that of an introvert. In the spring of 2013, Williams assumed the role as president of student government.
"Over the years I've noticed a decline in student involvement, which is really so unfortunate," Williams said. "Being the [student government] vice president [last year] gave me the ability to connect with people who actually can make the differences on campus, speaking for the students. That's continued through my presidency."
Williams' biggest accomplishment at Ferris was working for the past four years through recruiting with student admissions.
"Ever since I've taken this job I've seen enrollment go up and up and up," Williams said. "I take a little pride in that knowing that it started when I started that job."
Throughout her time at Ferris, Williams learned how to portray communication and team working skills that she plans to carry with her into her future.
"It's weird because now I go back to Detroit and it's a culture shock for me to be back there." "[Big Rapids] has grown into more of a home than I expected it to be."
Williams graduates in December with a degree is respiratory care. She plans to return to Detroit to apply to the Detroit Medical School to pursue an undecided Master's degree.