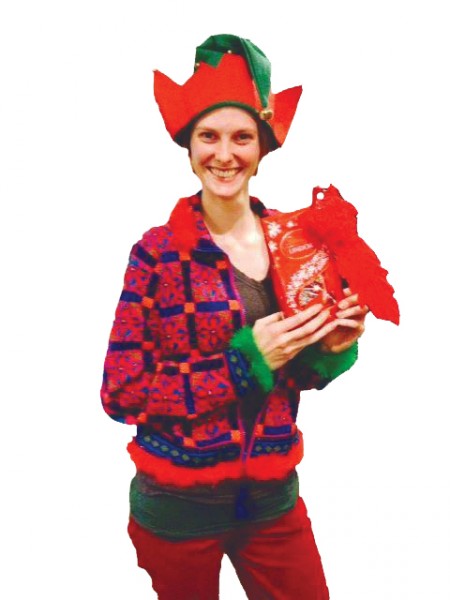 Jingle bells, colorful ribbons, a uniquely designed holiday pattern and even some pom poms and felt added on – that's me.
I sound beautiful, don't I? I am the wonderfully colorful Christmas Sweater. Many of you would probably call me an "ugly Christmas sweater," something you'd get all dolled up in before a holiday party. I was once someone's treasure, you know. They wore me proudly.
Now I am a joke.
I used to be considered the hit of the party. I still am, but only because I am the ugliest.
It's a frivolous tale of riches to rags. I was once neatly folded with care. Then I was shoved into a shabby cardboard box with raggedy jeans that didn't fit right, all before being unceremoniously hung up in a consignment shop with a bunch of sweaters that were… well, ugly.
I heard from Elizabeth DePew, a volunteer at Big Rapids consignment shop Everything Under the Sun, that they do not even accept people's old, ugly sweaters. Most go right into the donation bins. Apparently the ugly sweater trend hasn't spread to all the resale stores. Well, I bet someone will love my breed, and not just because it's free.
There is this one woman, Amy Bardell, a senior in the public relations program, who absolutely loves to show off my kind. Once again, though, it's only for this new trend of ugly sweater Christmas parties. She always finds some gorgeous sweaters at the Salvation Army.
"There is a lot that goes into finding the perfect ugly sweater. Is it some awful color? What kind of ugly design is on it? Are there excessive frills, like shoulder pads, or in my case, feathers?" Bardell said.
DePew summarized, "They're looking for a base. Something they can dress up even more."
Bardell goes into stores looking for the best my kind can offer. Normally she finds it – but then she destroys it. It's just disheartening.
"My mother was the mastermind behind this year's ugly sweater. She told me last year's wasn't ugly enough, so she looked for one and added some ugly to it," Bardell explained.
"Added more ugly to it," can you believe that? People these days have such a lack of appreciation for fine Christmas attire. I'm a beautifully crafted, knit sweater with a Christmas pattern sewn in. There is no ugly here to add to.
Icons such as Bill Cosby were wearing sweaters unironically back in the good old days, when sweaters were truly appreciated. Now the noble sweater is naught but a trend. It is used as a way for people to outdo each other as the ugliest.
Despite the dismay, I've decided to embrace the positive. At least I'm not hung up in a musty Goodwill anymore. I must not be quite so worthless if people are going out of their way to find me.