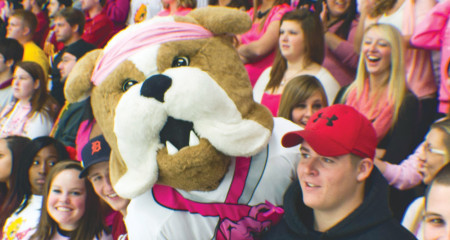 The Student Alumni Gold Club (SAGC) and Brutus are currently looking for applicants for Brutus tryouts.
Brutus is the first physical mascot at the university, according to Ferris' website. Before then it was "Ferris Spartans," until a sports columnist called Ferris "bulldogs" for their tough play at a men's basketball game.
The original Brutus, worn by Jim Wilczak, made his first appearance at a hockey game on Nov. 9, 1979.
There are currently seven documented students that have served as Brutus since 1979. The current student has served the longest at four and a half years.
Brutus' name was "Bulldog" until the early 2000s, when Student Government held a contest to name the mascot.
"Ever since [then], I have been called Brutus Ferris, although lots of fans still call me bulldog when they don't know I am now called Brutus," Brutus said.
Since 1979, four suits have been made by local seamstresses. The first suit had no eye covering and the mascot would speak to fans. Today, Brutus is completely masked and does not speak.
Recently SAGC put together the showcase "Evolution of Brutus" which was displayed in FLITE.
Students and staff can see who is behind the current Brutus mask at the Feb. 8 hockey game.
"As my retirement on Feb. 8 comes closer, I am very excited to unveil my identity and give thanks to all those involved," Brutus said.
In the past, Brutus was overseen and run by athletics. Now the program is run by SAGC, which took over in 2008. Students who take on the role as Brutus are in SAGC.
To fill the position, SAGC is looking for students that are leaders and entertainers who are spontaneous, dedicated, healthy, creative and responsible, and overflow with school spirit. Brutus is seen at more than 150 events a year.
"If we have more than one qualified person for the position, we will be taking more than one," Ferris senior plastics engineering major and mascot coordinator Luke Edington said. "If you are selected, you can look forward to lifelong friends, scholarships and an awesome time."
Applications for Brutus are due by 5 p.m. on Jan. 24 to Prakken 101, and tryouts will be held Feb. 1.
"The opportunity only comes around every three to four years, so I urge all interested to give a chance," Brutus said. "You won't be disappointed."