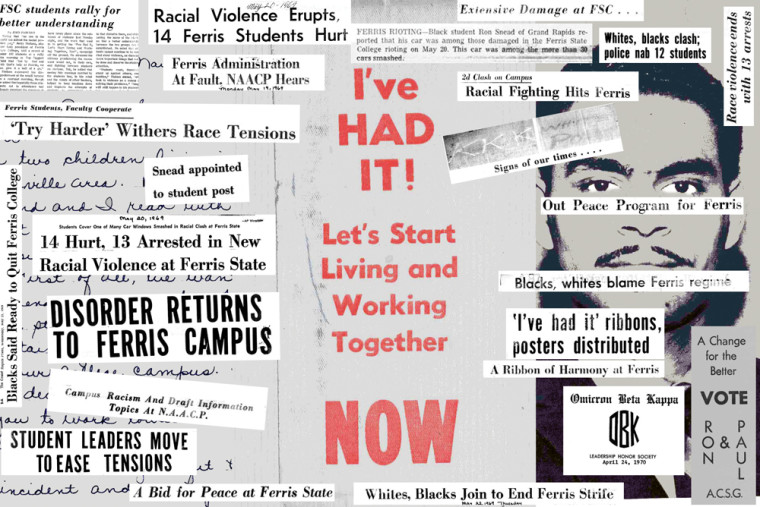 It was the early summer of 1969 when a confrontation between a group of white students and a group of black students erupted in the parking lot of the Business Building.
Mary Gallagher, a high school student at the time who now works in the University Archives, remembers riding her bike through the area on her way home from school.
"There was a lot of name calling, from what I remember," Gallagher said. "Nothing racially offensive, nobody said the 'n-word', but both sides were getting pretty heated. It never got past yelling, though, because soon after it started [University president at the time] Victor Spathelf showed up, knocked two kids' heads together and dragged them back to his office."
The confrontation was the result of nearly half a year's worth of disagreements between the black and white student populations, the most notable of which were the events of Mar. 2, 1969.
Black students (whom archive records assume were members of the newly formed campus faction of the NAACP) took over the Timme Library and the Starr Building, which ultimately resulted in the arrests of 263 people, only one of them white. The takeovers, as Gallagher recalled, were largely non-violent, with most of the damage resulting from students causing only mild harm to the library card catalogues and a Molotov cocktail being thrown through the doors of the Alumni Building.
"What they could have done and what they did are two totally different things," Gallagher said.
"I don't doubt they could have burned the place to the ground, but they didn't. They didn't want to. Their actions were to make a statement, not to cause anyone harm."
Today it's hard to conceive such a thing happening on campus. The discord felt between most white and black students is considerably less than it was those 45 years ago. While racial relations aren't perfect in any part of the world, most can agree these issues have improved.
"I know those events very well," said Michael Wade, assistant director for the office of multi-cultural student services. "A lot of times people don't have the space to engage or interact, so we learn off of what history has told us or what stereotypes we see in the media. I think we've gotten better as an institution by providing opportunities throughout the years to explore other cultures."
Through the use of cultural enrichment and events such as the Martin Luther King, Jr. celebration, Wade feels Ferris has improved from the attitudes of the 1960s regarding how students of different ethnicities and backgrounds interact on a daily basis today. All it takes, he said, is being open to learning.
Wade disagreed with the apathy other students directed toward MLK day, describing Dr. King as a "transcender," and more than just a man whose legacy is observed by excusing Monday classes.
"He was one of us," Wade said. "He had an opportunity to go a different way, but he chose to go the way of servant leadership. He chose to serve others and not just himself. He served in tireless times and really went out to make a difference in people's lives… And when I see him, I see me and I challenge myself and say 'what am I doing in my life to make a difference?'"
Wade continued on to say Dr. King should serve as an inspiration to all those looking to make a difference in the world and although his holiday is sometimes seen as just an excuse to sleep in, he encouraged students to participate in the celebration of King's life.
While most of the activities being held as part of have already passed, the celebration's main event, the 28th Annual Student Tribute with a performance by The Dark Noise Collective, will be held Wednesday, Jan. 22, at 7 p.m. in Williams Auditorium.