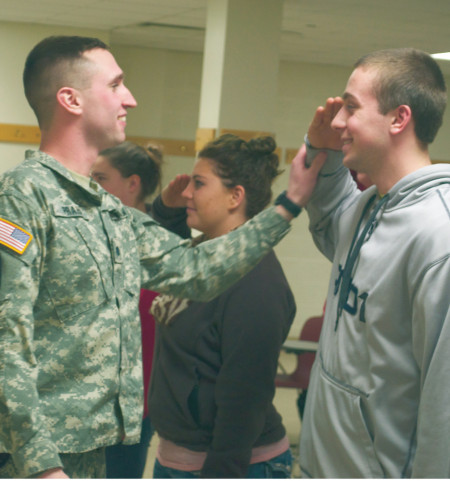 The Army Reserve Officers' Training Corp (ROTC) hosted their first lab of the semester by teaching new students the proper way to salute, dress and act.
The ROTC is a class that students can take each semester to learn about the military, gain leadership skills, maintain physical fitness and receive financial incentives, according to senior Justin Stedowske.
The ROTC class is two credits for freshmen and sophomores, three credits for juniors and four credits for seniors. According to Sgt. Stan Pelak, Ferris military science instructor and National Guard Recruiter, many students don't realize that a minor is available through ROTC. After three years, students can earn a minor in military science.
Students in ROTC have the option to enlist in the military, but it is not required.
"[My hope] for soldiers [in ROTC] is to become commissioned leaders and future leaders of the National Guard," Pelak said. "[My hope] for civilians [in ROTC] is to have a good understanding of what the military is and how it runs and the leadership skills it takes to lead 30-40 others."
Ferris nursing senior Cdt. Rebecca McMurphy originally joined the ROTC as a way to pay for school. She contracted into the military and has all of her school paid for. After graduation, McMurphy will owe four years of active duty. If students contract with the military, they will receive help with tuition, books and a monthly paycheck, according to McMurphy.
"[ROTC is a] great support system," McMurphy said. "It's the only class on campus that can teach you to be an effective leader."
Students interested in learning more about the ROTC can contact Sgt. Stan Pelak at 591-5321.