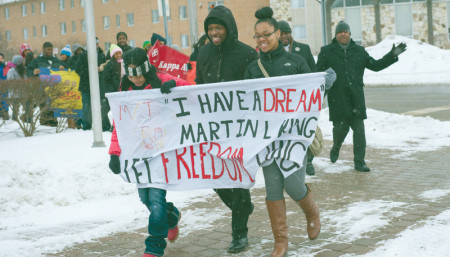 Ferris State University students, staff, faculty and community members marched in the cold to commemorate Dr. Martin Luther King, Jr. (MLK) and reflected on all he has done for the nation.
Ferris junior communications major Jacquelyn Beard marched for human rights, supporting racial equality and the lesbian, gay, bisexual and transgender (LGBT) community.
"MLK shed a light on the world," Beard said. "He not only inspired [the] colored community, he inspired everyone."
People marched from the IRC to Williams Auditorium at 3 p.m. on Monday, holding signs of what they stand for and why they march.
In 1963, MLK helped lead over 200,000 people at the March on Washington. There, he delivered his famous "I Have a Dream" speech that called for equality among all men.
"I march because of how big of an impact the march had back in the day," senior psychology major Quillian Murphy said. "We're doing this to continue his legacy and for humanity in general."
Ferris' MLK Celebration's theme this year is "Together We Will…"
"[The theme means] for us to finish the sentence and continue the work of Dr. King by being advocates for social justice," Assistant Director of the Office of Multicultural Student Services (OMSS) Michael Wade said.
Ferris senior television digital media productions major Delriko Curtis will be the first male to graduate from college in his family, and he credits that to the work of MLK.
"I don't even know where to begin," Curtis said. "MLK is one of our virtuous leaders. He affected everyone. He gave people freedom and opportunities for jobs. He gave the people the opportunity to learn to read. He's opened different doors for everyone."
OMSS has been coordinating the Freedom March and Ferris Student Tribute for 28 years to honor Dr. Martin Luther King, Jr.
Since 2004, OMSS has extended activities throughout the week. Reoccurring events include service projects, the Tunnel of Oppression exhibit coordinated by Residence Life, discussions, and nationally recognized speakers and performers.
"To us it is not a choice to celebrate," Wade said. "If it were not for Dr. King's work, our office would not exist. Our goal each year is to commemorate Dr. King, provide opportunities for learning and engagement for our campus community."