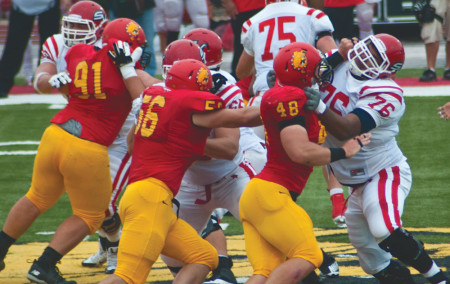 The football team won't hit the gridiron for another seven months, but that doesn't mean that they are slouching through January.
For many, the college football offseason is a time of relaxation, rest and rehabilitation. While these are important in their own right, the offseason is also one of the most crucial times of preparation for a football team, and this season is no exception for the Bulldogs.
"Well, [the offseason has] been great for me." junior running back Jamaal Jackson said. "I want to become a better leader on and off the field and lose 20 to 25 pounds. I run a mile every day before and after my workout, and every day of the week I'll work out each individual body part. Just trying to keep my sword sharp."
The team's organized winter conditioning program doesn't start until Feb. 10, where players will have a mandatory morning conditioning segment followed by weightlifting in the afternoon. Until then, each player is responsible for their own workout schedule and diet as they look to stay healthy and fit heading into winter and spring training.
"Right now our coaches are on the road a lot traveling and getting recruits for signing day, so we actually get to lift on our own time," sophomore quarterback Jason Vander Laan said. "Justin Zimmer, Cody Dingleday, Jake Lampman and I work out together five days a week because our schedules fit. We lift for about an hour and a half, then work on core, sprints, and agility for an hour, then throw for a while afterwards."
Vander Laan, who led the Bulldogs' high-powered rushing attack, won All-American accolades in the offseason as he led every level of college football in the country in rushing yards by a quarterback, with 1,607 yards. Apart from his All-American accolades, Vander Laan is a nominee for the Harlon Hill Trophy, which honors the Division II player of the year.
With some players looking to slim down to a goal weight during the offseason, others are striving for the opposite. Defensive end Carlton Johnson has made it a priority to add size and strength to his physique as he continues with his winter workouts. Relying mostly on his quickness and aggressiveness off the line, Johnson was still considered undersized by some at 225 pounds.
"245 is a good weight for me so I can still be fast and big enough, and I have been just heavy lifting and conditioning until we start lifting with the team," Johnson said. "My main focus has also been my strength. I feel if I get stronger, then no one can block me."
As the offseason proceeds and players work on bettering themselves in the months leading up to spring training, it is still apparent that they have their sights set on bettering the team as a whole. With the focus on winning games in 2014, the Bulldogs know that a solid offseason is the first step toward reaching that goal.
"I believe the possibilities are endless," Vander Laan said. "We have a ton of talent at every position, so as long as we have a great mindset, we are going to have a very successful year."