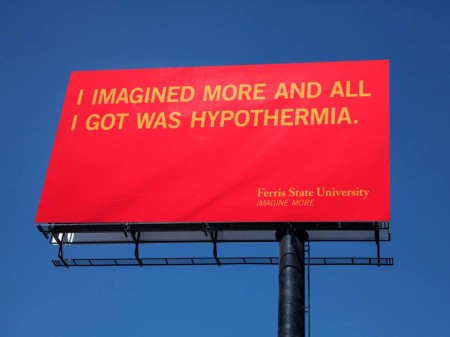 Ferris students are slowly trudging through the gargantuan piles of snow on their way to classes despite the bitter cold.
As of 1:24 p.m. EST, weather.com reports that the temperature is six degrees Fahrenheit, but the wind chill currently is at -10 degrees Fahrenheit.
At 11:00 a.m. EST, the weather was reported at one degree with a windchill of -15.
The snow continues to blow around causing low visibility and dangerous driving conditions.
Nearby locations are currently reporting snow, and there are snow showers in the forecast, though only one inch of snow is expected throughout the day.
According to Business Insider, under the similar conditions of a wind chill of -19 degrees Fahrenheit, frostbite can occur with 30 minutes of exposure to the cold.
By following this link, you can find the NWS Windchill Chart, which clearly illustrates how the formula for windchill and how long it takes for frostbite to set in.
http://www.businessinsider.com/how-long-does-it-take-to-get-frostbite-or-hypothermia-2014-1.
Windchill is essentially how cold the wind causes the temperature to feel.
On Twitter, a massive campaign erupted to get the administration to cancel classes due to the cold last night, Jan. 27.
At 8:47 p.m., junior Information Security Intelligence major Dakota Falzetta tweeted from his account (@TheTMNT19) "#ShutdownFerrisState."
The result was thousands of tweets of this hashtag.
One user took a picture of the "Trending" section of the page, and claimed that #ShutDownFerrisState was trending in the United States.
"I expected a response, but not a response that would get the hashtag trending on twitter," Falzetta said.
Professional lacrosse player Mario Venttiquatro joined in responded to Falzetta by tweeting out the hashtag as well.
It is unconfirmed whether or not the hashtag actually trended in the United States. There are unconfirmed reports that it may have been photoshopped.
#ShutDownFerrisState was tweeted out hundreds of times, and Falzetta, along with senior Criminal Justice Major Matt Leindecker were put in "Twitter Jail."
Twitter Jail is a lock placed on a twitter account for too much twitter activity.
Like most, Leindecker just wanted a reason.
"I think it would have been great if Ferris started explaining why we are not closed just as much as they tell us why they are closed [When they do]," Leindecker said. "Ferris students are going to feel this one for awhile."