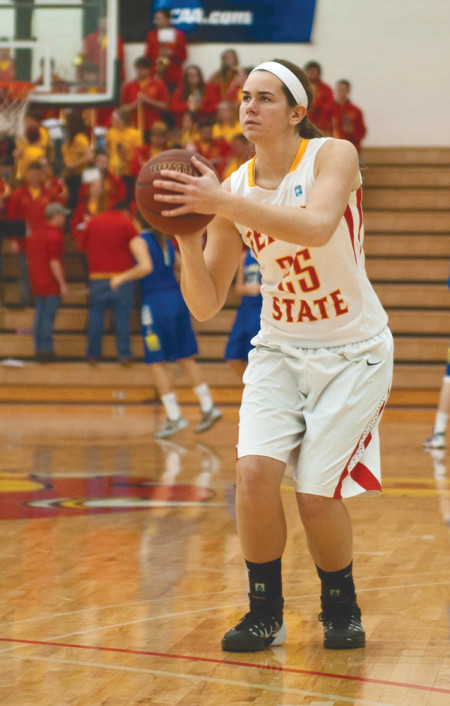 Big Rapids native and Ferris freshman forward Kendra Enszer gets the benefit of playing at home on Ferris State's women's basketball team.
In her high school years, Enszer led Big Rapids to regional finals her junior year, scored her 1,000th career point as a senior, was the Big Rapids Pioneer Dream Team Player and was chosen as an all-state honoree.
"I always wanted to play college basketball somewhere ever since I was young," Enszer said. "Now that I am playing at Ferris, I feel it was a good choice and it is nice to be able to stay in my hometown and play for the community. They have always been there for me, and I am still in Big Rapids, so there is so much support. It is just really awesome."
Enszer has known her calling for basketball ever since she was just a little girl in grade school.
"Well, I started playing basketball in third grade for a travel team in Big Rapids," Enszer said. "I fell in love with it when I was younger and kept going.My high school team was actually extremely good, which really helped with the love for the sport and the process of recruitment."
Being from Big Rapids, it made things a lot easier when it came to recruiting because the Ferris basketball staff would always hear about and see Enszer play.
"Well, you e-mail the coaches and try to get ahold of them. There were always a lot of recruits at my AAU basketball team games and that is how you get noticed. But you have to contact coaches, send them stuff, and it just goes from there. I had a few other options, but Ferris is what it came down to," Enszer said.
Growing up in Big Rapids, Enszer had always been attached to Ferris, whether it was going to all the sporting events or basketball camps, she was always meant to be a Bulldog.
"Playing for Ferris is such a great experience," Enszer said. "I grew up watching Ferris basketball, football and hockey. It has always been a part of my life, so playing for them is such a great feeling."
Although the Bulldogs haven't had the best start to their season, Enszer is determined to help change their statistics and reach for success.
"I really want to help my team out as much as I can," Enszer said. "We just have to keep working hard and hopefully victory will come our way."