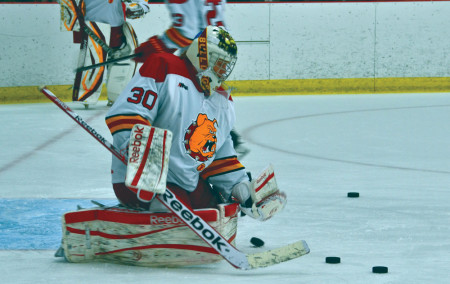 Connor James Motte, better known as CJ to fans, has earned himself a candidacy for the 2014 Hobey Baker award.
The award is given annually, following a public online vote, to the top male hockey player in Division I college hockey.
While watching the junior goaltender tend the net, it's easy to believe his pads are slathered with "stickem," and for good reason, as he has been one of the nation's best goalies throughout the 2013-14 season.
Anybody looking at Motte on the street might not see what many Bulldog fans see on the ice. Standing six feet tall and weighing in at 190 pounds, Motte easily blends into the crowd with his mild-mannered attitude.
When the number 30 jersey is slipped on, though, an "S" can be easily seen stamped on the front of his red and white sweater.
Motte boasts some of the best puck playing skills among goaltenders in college hockey. It's hard not to wonder whether he's been taking tips out of Pavel Datsyuk's bag of tricks.
Twice this season, Motte has tallied more than 40 saves, and nine times he has pulled in more than 30, a feat that very few goalies have accomplished this year.
The nationally ranked No. 6 Bulldogs have put him in the race for the 2014 Hobey Baker award. The award is given out every year to honor the best college hockey player, and Motte has a shot to become the first goalie to win the award since 2001.
Motte has earned each of Ferris' 17 wins this season and boasts the WCHA's best winning percentage, with a .771 mark, and is ranked third with his .924 save percentage. His performances this season have given the Bulldogs a chance to win every night out.
Along with his outstanding conference numbers, Motte is also in the top three in the nation in minutes played (1424:22) and shutouts (3), according to US College Hockey Online. Motte is likewise ranked 19th in save percentage in the country on a Ferris team that is 14th in defense with 2.35 goals per game.
With all the statistics put aside, Motte has been one of the most entertaining goaltenders to watch this season and has remained undefeated at home because of support from Ferris State fans.
Despite the bulldogs dropping from the number two spot in the nation to sixth, Motte has still remained one of Ferris' most reliable players and has given himself a feasible shot at the Hobey Baker.