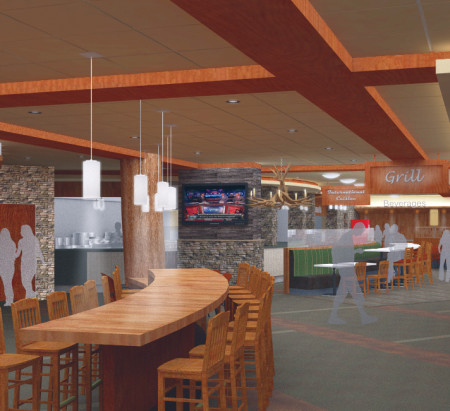 Ferris has big plans in store for the dining facility that will be located in the new university center scheduled to open January 2015.
The new University Center dining facility has been featured in national food magazines including Campus Dining Today and Food Management for its planned design.
Ferris will be the first university in the country to combine an "all-you-care-to-eat" dining facility with retail venues.
The "all-you-care-to-eat" side will be named "The Lodge," with stations including Breakfast Skillet, Riverside Café, Deli-sh, Pastabilities, Italian Oven, Fire Pit Grill and a bakery station. The names of the stations are subject to change.
The Fire Pit Grill will be the main focal point of The Lodge, featuring such food items as flame broiled burgers, chicken, brats, hot dogs and daily specials. Ferris will be the second place in the country to have this grill, the first being in Las Vegas. Ferris' chef will be going to Las Vegas to learn how to cook on it.
Breakfast Skillet will serve breakfast food all day with personal omelet and crepe options.
"The Lodge is going to have a refined lodge look and feel," Director of Dining Services Lori Helmer said.
The retail side has yet to be named. Restaurants on the retail side will include The Flame n' Grill, Pizza Chefs, freshens, SuCasa and Jump.
"SuCasa" will feature Mexican Qdoba-style food options and "Jump" will serve Asian cuisine.
Pizza Chefs will feature personal 10-inch pizzas, as well as pizzas to go.
"Take-out will be featured at The Lodge as well as the retail side," Helmer said. "We are hoping this meets the needs and wants of everyone."
Cash, credit cards, Big Dog Express and Bulldog Bucks will be accepted at the retail venues.
Prices to dine at The Lodge will start at $9.25 and reduce depending on children's ages.
"We want the facility to be very warm and inviting," Helmer said.
A campus-wide e-mail will be sent out to ask students for participation in suggesting names for the retail space.
The dining facility will also provide job opportunities for students. Hiring for positions will begin in the fall.
"It was very challenging to out-rock The Rock," Helmer said. "But we have risen to the occasion."
"We are doing something here on campus that has not been done anywhere else in the country," Professional Development Manager Michael Langan said.