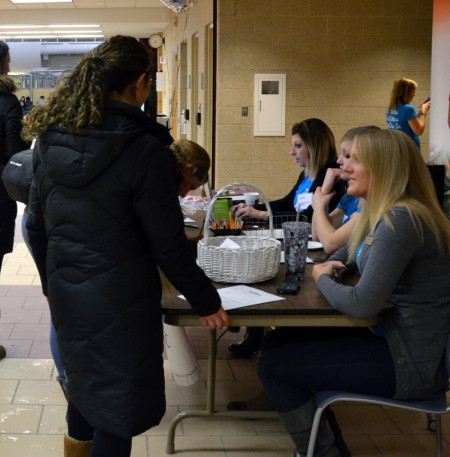 Ferris fraternities joined Ferris sororities in the tradition of hosting formal recruitment.
"We decided to have a formal rush this year to show the university that fraternity life is more than just partying," Ferris sophomore pre-physical therapy major and Lambda Chi Alpha member and rush chairman for inter-fraternal council Brandon Stabley said.
The inter-fraternity council (IFC) voted to try formal rush this semester because of the success sororities have seen in recent semesters.
The hope is for each fraternity to gain 10 new members this spring, according to Stabley.
Sorority recruitment took place last Thursday.
"The term 'sorority recruitment' is a pretty new one just because we don't use the term 'rush' anymore," Assistant Director of Center for Leadership, Activities and Career Services Amber Kniebel said.
Fall formal recruitment is different than spring recruitment. Spring recruitment doesn't have a formal fair and is more relaxed. In total, 43 women showed up to recruitment, much more than anticipated, according to Kniebel.
Only 25 men showed up, according to Stabley. They hope 50 to 60 men show up for recruitment in the fall.
"For fall we have a go Greek mentality," Kniebel said. "We don't have the chapters recruit for their own individual organization; we ask for them to recruit for all of our organizations and PanHellenic as a whole. Our goal is to find the right fit for each individual woman and each chapter, as well."
The process can take up to six weeks to become a full member.
Ferris junior health care systems administration major and PanHellenic president of Delta Zeta Kristy Kirk has been a member of Delta Zeta since the fall of 2011.
"I came to Ferris with nobody from my hometown," Kirk said. "I wanted to meet new people and make some friends."
Fall sorority recruitment for the next academic year will take place Sept. 12-14.
"We hope to attract students who are looking for a way to lead and help build Greek life back to what it used to be years ago," Stabley said.