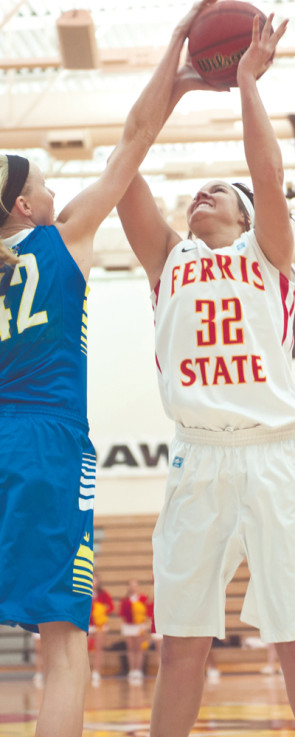 Consistent inconsistency sums up the Ferris Women's Basketball season as they reached their 15th game of the season with eight games to play.
The Bulldogs' season started off patchy, but they have slowly started to make their comeback, game by game.
"Every weekend we have been going 1-1," senior guard Sarah DeShone said. "We have recently been playing a lot better as a team. Everyone is working hard and practice is getting better."
A lack of continuity has contributed to the Bulldogs sitting second to last in the GLIAC North Division.
"Consistency was our biggest problem," freshman guard Emily Evans said. "We worked on it during practice and our coach also realized that we are a team of balance. She had to give us equal practice time for offense and defense every day."
The team is not where they want to be in standings so far this season, but they still have faith that they are getting where they need to be.
"We are obviously not satisfied with where we are right now," junior forward Kara Hess said. "But we are very close to being a great team. I would not change anything because with every loss we have learned a lot about ourselves as a team."
The Bulldogs are doing everything they can to improve on their season and hopefully do well in tournament play at the end of February.
"I believe the second half of our season will be a lot better as long as we all stick together as a team," DeShone said.
Despite the struggles to this point, there are always unforgettable memories made on the court.
"One of my favorite memories from the beginning of the season would have to be when we played Northern," Hess said. "We played a full game as a team and we won."
While winning games is always an important thing, the memories made off the court are what really makes the team gel.
"My favorite memory from the season was on New Years Eve when the whole team got together," Evans said. "We all made our own dish to pass, had dinner, played Cards Against Humanity, and watched the ball drop."
With the shooting incident over the weekend, Ferris' game against Saginaw Valley State was canceled and is being rescheduled for Saturday, March 1, at 1 p.m. on home court.
The Bulldogs will get back on the court Thursday, Feb. 6, against Michigan Tech with tipoff at 6 p.m. inside Jim Wink Arena.