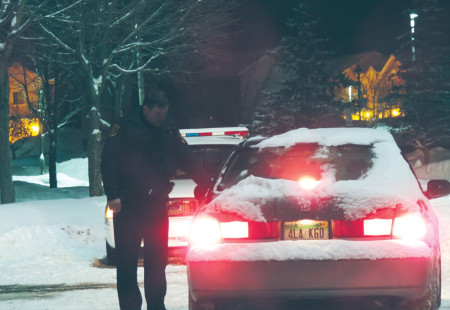 Ferris psychology senior and Finch Court resident Jenny Macdonald was woken up by the sound of police banging on her front door.
Macdonald's roommate opened the door to find police holding a warrant to search their apartment. Officers were looking for the suspect in the Venlo shooting who was believed to be hiding in a Finch Court apartment.
Finch Court is an on-campus housing complex for Ferris students. It is located behind Cramer Hall, across the street from the intramural fields.
The complex was on police lockdown all morning on Saturday, Feb. 1. The residents were told to stay in their apartments after police found a car they suspected to be the getaway vehicle that led them to believe the suspect was in Finch Court.
At 4:30 p.m. on the same day, six of the apartments surrounding apartment 340, where the shooter was suspected to be located, were evacuated. Residents were told not to return until the situation was over.
"I'm glad they went through all the houses and checked; I definitely feel safer," said Macdonald during the evacuation period.
Ferris plastics junior and Finch Court resident Omar Alkatie lives in a unit adjacent to 340 and decided to leave at night with his roommates after the police had taken Finch Court off lockdown.
"The police came to our door right before we all were about to leave and told us that if we were going to go anywhere we had to be careful," Alkatie said. "The police told us to go through the back door to get to my car. They said 'go fast and stay low'. That was as intense as it got."
Despite heavy police presence, Finch Court resident Michael Miller watched the events of the day unfold from his front lawn. Miller lives across the street from apartment 340.
"I had this really big coat on that kind of made me look like I was an officer," Miller said. "Either way, nobody bothered me so I just stood on the lawn and watched it happen."
Miller kept his Facebook friends updated with frequent statuses detailing the action.
The conflict went on until shortly before midnight. The suspect was identified as Decory Demarco Downing, 20, of the Macomb area. He was removed from the apartment by the Michigan state emergency team.
Following the arrest, evacuated residents were allowed to return home.
"Everything was pretty tame," Miller said the following day. "There were a lot of guns around which made everybody pretty uneasy, but on the whole, police kept everything under control."