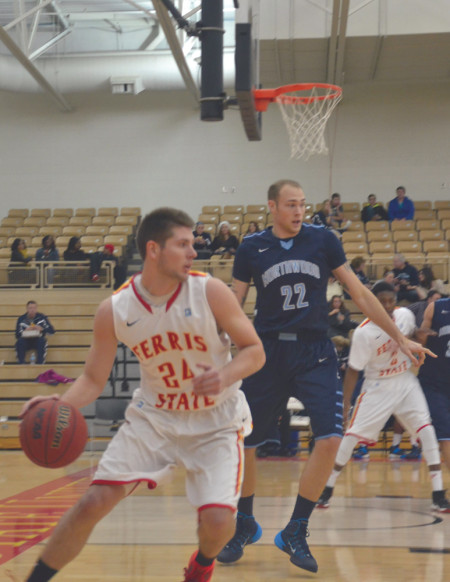 As the Ferris State men's basketball team closes in on the end of the regular season, they look to right the ship and get back into the race for a postseason.
It has been 34 days since Ferris' men's basketball program last tasted victory, with their home win against Findlay (14-4) on Jan. 2 being their last "W."
Since then, the Bulldogs (6-12), led by first year head coach Andy Bronkema, have been plagued by end-of-game mistakes and have slipped into an nine-game losing skid after their 86-62 stomping from Grand Valley State (14-5).
"We had a lot of close games and we have lost the majority of them, so that's a bit frustrating, but we still have a chance to finish off the season strong," junior guard/forward Matt Poches said. "I feel like we are just a few mistakes away from being a really good basketball team."
All of Ferris' wins came during a six-game winning streak early in the season as the team was able to close out games late in the second half.
Ferris' late-game collapses are surprising coming from a team that ranks in the top five in most defensive categories in the GLIAC. The Bulldogs are currently fourth in rebounds per game (37.9), first in offensive boards, fifth in defensive boards, and second in blocked shots, with an average of 4.9 per conference contest.
"We are one of the top teams on the boards in the GLIAC, but there is always room to improve," sophomore center Jared Stolicker said. "We need to get stops and rebounds to utilize our fast break and knock down open shots, and most importantly, stay together. If we start turning our backs on one another, nothing good will come."
Stolicker has been the anchor in Ferris' overall scheme so far, ranking seventh in both rebounds and field goal percentage in conference play.
"We haven't lost confidence as a team; we just have to be better at playing a full 40 minutes of good basketball offensively and defensively," graduate-assistant coach Daniel Sutherlin said. "I think at this point in the season we've learned a lot from past games. We know we've got the talent to make a run; we just have to go out and do it together."
With their most recent matchup against Saginaw Valley (7-10) cancelled due to an off-campus shooting, only eight games remain on the regular season schedule for the Bulldogs. With a GLIAC tournament berth starting to slip away, the team is defending its leadership despite the struggles.
"I haven't lost a grain of respect or showed less confidence in coach Bronkema one bit," junior point guard Dietrich Lever said. "He's a great coach that's fighting for his team to get back into contention. This is a time we need to be together more than before, and everyone understands that."