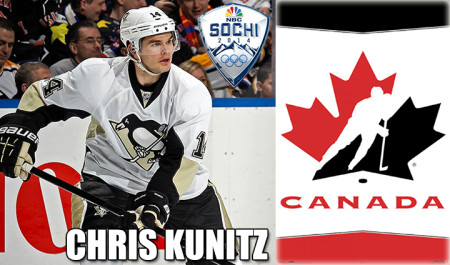 Hockey memories are like scars in Big Rapids.
There's always a brilliantly crafted and seemingly mythical story behind each one, and they never do go away, even if they are eleven years old.
That's how long it's been since Chris Kunitz was a member of Ferris State's hockey team.
Today, Kunitz is on his way to Sochi, Russia, to represent team Canada as well as Ferris State in the Olympics.
"Pure joy and excitement," Kunitz said. "It was kind of a nerve wracking few days. Obviously knowing you were maybe in the mix to go, but to make a team of that caliber wasn't really something I ever thought was a possibility. Growing up you always dreamt of being able to play for a gold medal and win a Stanley Cup"
Kunitz is a two time Stanley Cup champion (2007 with Anaheim, 2009 with Pittsburgh) and is currently a member of the Pittsburgh Penguins, where he plays on a line with the man that is currently regarded as the best player in the world, Sidney Crosby.
It was more than half of my lifetime ago when he donned the crimson and gold. I was a third grader at Quarton Elementary when he was taking Ferris on a 31-win ride, which blows away the most wins in a single season in Ferris history.
In that season as a senior, Kunitz finished second in the nation in Div. I college hockey in scoring with 79 points. His 35 goals were second most by one to Colorado College's Peter Sejna. He added 44 assists en route to a trip to the NCAA West Regional Championship.
Though Kunitz scored 99 goals in four years, head coach Bob Daniels, who coached him all four seasons eluded that Kunitz was never a sure thing, especially before he became a Bulldog.
"He was a fairly relative unknown," Daniels said. "He actually I believe had gotten cut from what's called midget hockey. He was playing high school hockey in Saskatchewan, which really is kind of a last stop hockey. At that age, generally you'd be playing on a travel type club team."
The adversity didn't deter Kunitz, and he worked his way into Daniels' report the next year.
"He did make a junior team the following year in Melville, Saskatchewan," Daniels said. "And [Assistant Coach] Drew Famulak's father lives there, and he got a phone call from his dad who said 'Hey, there's this kid here that's really catching my eye and I think you should take a look at him' and Drew recruited him."
Kunitz scored 20 goals as a freshman, which is more goals than the current freshmen have combined for at this point (18). Despite the impressive outburst, Daniels believed it was much deeper into his career that Kunitz began to separate himself from the pack.
"It was not until his junior year when I think he had 28 goals, when he really in my opinion blossomed," Daniels said
Kunitz played in a relative golden age of college hockey in Michigan, where Michigan and Michigan State dominated until 2003.
"You always remember the rivalry games, the big games against Michigan and Michigan State," Kunitz said. "It may not have been rivalry game for them but it always seemed like our fans and our student section got up for those games as did the players."
Even Kunitz despite his scoring outburst was skeptical after that season about getting a shot to play at the NHL level.
"Not really, no I didn't really know what having success at the college level meant," Kunitz said. "When I was approached by NHL teams and talked to some of the GM's I figured that obviously there was a possibility but still didn't really know to what level it was going to be."
Most Olympic hockey players distinguish themselves as national team worthy early in their careers. Kunitz is 34. He is on the relative back-end of his career. While many say that playing with Crosby has elevated him, Daniels has a different take on his former player.
"Yes Crosby's a great player," Daniels said. "Chris really doesn't mind getting his finger nails dirty. It takes a guy that's willing to be that hard of a worker who's got enough talent and also has the skill to play off of Sidney and not worry about kind of being, if you will second fiddle."
Even without Crosby, Kunitz still got top billing. He played with Russian superstar Evegeni Malkin when Crosby was out with concussions and showed he's the right type of person to play background and find a way on to the score sheet.
Detroit Red Wings head coach Mike Babcock will take the reins for the second Olympic games in a row. Former Red Wing captain, three time Stanley Cup Champion and NHL Hall of Famer Steve Yzerman is team Canada's general manager.
Kunitz could not confirm whether or not he would be playing on a line with his Penguin teammate.
"I have not had any conversation with Mike other than where we were in our lives at the summer orientation camp," Kunitz said. "Obviously it would be a lot of fun to play with someone that you're comfortable with but anywhere that they can put you in the line up, you're going to be playing with good players."