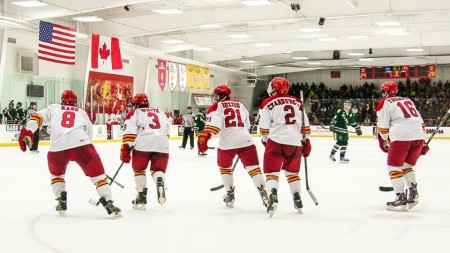 The nationally ranked No. 4 Ferris State Bulldog's hockey team will be on live television for their two game series at conference foe Bemidji State University on Feb. 14-15.
This marks the third straight road weekend that the athletic department with the help of the office of housing and residence life as well as Ferris television and digital media productions have picked up the cost to televise away games for free to students and Big Rapids community members alike.
The games will be televised in the residence halls on Ch. 22, and on Charter Big Rapids Ch. 97.
Broadcast and Multimedia and Communications Assistant Dominic Hennig confirmed that Buffalo Wild Wings, Crankers Brewery, The Gate and The Pub plan on showing the game for customers.
Hennig, as well as color-commentator Dan Kowalski, will be making their live T.V. debut as broadcasters. Their voices will air for listeners in Big Rapids. Lakeland Public TV of Minnesota will be providing the video and productions.
As always, the game is also available via radio on Sunny 97.3 FM.
Ferris State hockey is currently at the top of the Western Collegiate Hockey Association with 32 points and a 20-6-3 overall record (15-3-2 WCHA) with eight regular season games remaining. Minnesota State is in second place with 30 points, but has just six regular season games to play.
Bemidji State sits at 8-15-7 overall (8-10-4 WCHA) with 20 points and is currently in seventh in the WCHA. The top eight teams qualify for the WCHA playoffs.