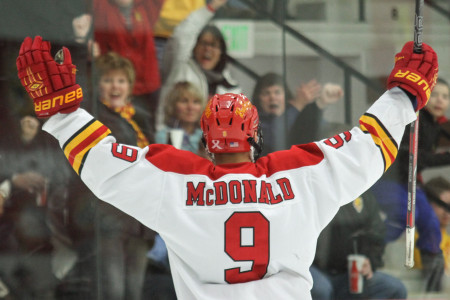 The Ferris State Bulldogs went into their Feb. 21-22 series with Alaska-Anchorage tied atop the conference with the Minnesota State Mavericks, and had played two less games.
On the other side of the weekend, the nation's No. 4 ranked Bulldogs are four points ahead of the Mavericks, and each have four games remaining.
The Bulldogs sweep of the Seawolves pulled Ferris to within five points of an automatic regular season conference title.
Ferris must finish with at least a 2-1-1 record to lock up the title, which means that they don't have to win a game on the road. They have one more home series on March 8-9 vs. Lake Superior State.
Ferris is now preparing for a 2,700 mile trip to Fairbanks, Alaska, to take on the Nanooks in their final regular season road series. The WCHA's first place Bulldogs swept the Nanooks in their series in Big Rapids back on Nov. 22-23, winning 5-3 and 4-3 respectively.
At that point, the Nanooks appeared to be in contention for a top four regular season finish. As the season progressed, Alaska dropped as far as ninth in the conference standings.
As the calendar flipped to February, the Nanooks offensive attack flipped the switch. They've scored 26 goals in their four February games, going 6-1 and 6-1 against Alabama-Hunstville at home, and subsequently beat Michigan Tech 7-3 and 7-2 in Houghton, Michigan.
The last time the Bulldogs travelled to Fairbanks, Ferris split the series during the 2011-12 Frozen Four run, losing the opener 2-0 and winning the finale 3-2.
Ferris comes in at 23-7-3, with an 18-4-2 mark in the WCHA. Alaska Fairbanks is 14-12-4 overall and 11-11-2 in the WCHA, and have climbed back to fifth place, two points behind Alaska-Anchorage, who has played two more games.
Ferris will make the trip without junior defensemen Jason Binkley, who underwent a successful appendectomy on Feb. 23. The timetable for his return is currently unknown.
The puck drop for both Feb. 28 and March 1 are scheduled for 11:07 EST. Ferris will leave Big Rapids on Wednesday, Feb. 26 for Fairbanks.