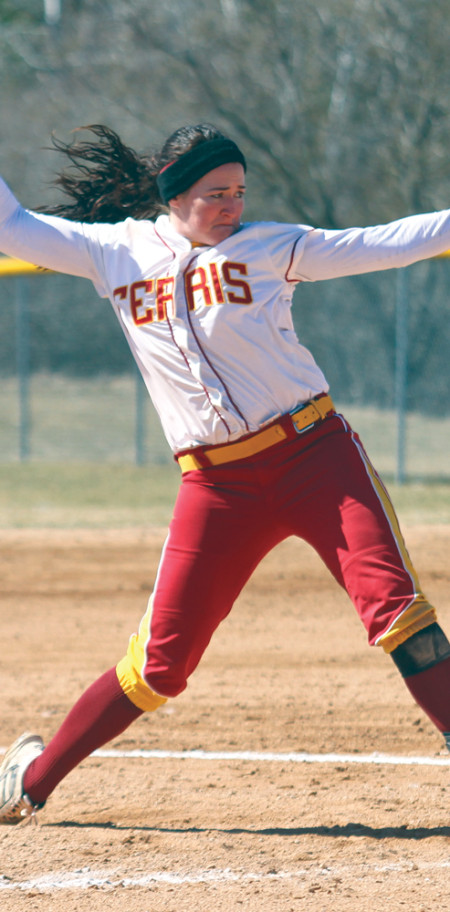 The Ferris State women's softball team lost seven seniors from last year's squad, but they are looking to catch opponents off-guard this season with young talent.
With the departure of those seven seniors, the Bulldogs will welcome seven freshmen and have a new look to their team, specifically with the pitching staff.
After the graduation of Dana Bowler, the team will look elsewhere for someone to take the spot at the top of the rotation. Bowler logged 211 innings in the circle last year and posted a 21-win season with an ERA of just 1.39.
"Freshman Megan Hiler and I will be the starting pitchers," senior pitcher Amy Dunleavy said. "Dana Bowler will be missed in the circle, but we have confidence in ourselves to be able to handle the work load."
Dunleavy is no stranger to pitching for the Bulldogs as she posted an 8-4 record with a 3.88 ERA in 15 appearances last season. Dunleavy is also a force at the plate for the Bulldogs. She finished the season with a .313 batting average and led the team in homeruns (8), RBIs (39), runs scored (31), on base percentage (.412), and slugging percentage (.550) last season.
Dunleavy is optimistic about the upcoming season despite the lack of experience the team will feature this season.
"We lost seven valuable seniors and now have seven freshmen. We are young, but very talented," Dunleavy said. "The best part of having a young team is opponents don't know what to expect. We are going to surprise people this year. We have to come together as a team. We have to support one another and keep our team chemistry up."
Another key piece to the team is junior shortstop Michelle Tononi. Tononi started all 45 games at shortstop last season, posting a .961 fielding percentage in the process. She also batted .240 last season with 14 RBIs.
Tononi said she worked hard to improve her hitting this offseason and thinks she has matured as an all-around player. Tononi is also very optimistic about the season and thinks this year's squad has a lot of potential to do great things.
"We have a very talented team and a lot of depth in many positions," Tononi said. "We just need to go onto the field every game with confidence in our ability to play."
The Bulldogs begin their season March 1 against Missouri S&T at the University of Southern Indiana. The Bulldogs' first home game is slated for March 22, which features a conference doubleheader against Ashland.