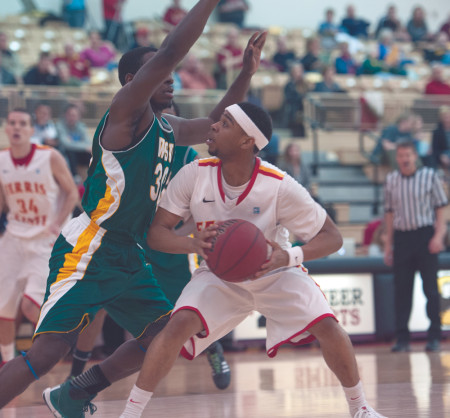 To make the 2014 Great Lakes Intercollegiate Athletic Conference tournament, you have to win a lot.
The Bulldogs (9-15), despite winning their last two contests, have fallen two spots shy of the top eight in the conference rankings, with Malone (14-11) being the last team to clinch a tournament berth.
Throughout the 2013-14 season, Ferris has shown glimpses of greatness, but these have been overshadowed by late game mental lapses and lack of consistency. Even though the Bulldogs have a shot to close out the season strong, the damage has already been done.
"It's not a good feeling to know we've been eliminated, but we are trying to build off the positives and get momentum going into the offseason,"sophomore guard/forward Josh Fleming said. "Our main focus right now is finishing this season out strong."
Ferris has the chance to end this regular season with a four- game winning streak, which would look great in comparison to the team's 10-game losing skid between Jan. 4 and Feb. 6. The Bulldogs have two games remaining on their schedule after beating Wayne State and, more recently, Saginaw Valley 90-68 in their matchup on Saturday.
"Good team effort and we played with a lot of energy as well. It feels better than losing does, that's for sure," junior forward Matt Poches said. "We know now that we have an opportunity to end the season on a high note going into next season winning these next two games."
Poches, a transfer from Oakland University, has come in and made a significant impact for the Bulldogs this year. With his great paint presence and range, Poches is scoring an average of 9.0 points per game and has scored team highs four times this season.
The one silver lining in the clouds for the Bulldogs is the fact that the team will be returning all but one player (senior forward Raymoan McAfee) next year. McAfee has been one of Ferris' best options off the bench, dropping 10 points and grabbing four boards in the team's win against SVSU.
If each player on Ferris' current roster returns next season, the Bulldogs will have five juniors and five sophomores, including the entire starting lineup. Despite this luxury, the players are keeping their mind on finishing this season and keeping morale high heading into next season.
"We have to continue to learn the offense and build chemistry on the floor," junior forward Matt Stoll said. "We have a chance to improve our rankings in the conference for the offseason. So, we need to stay focused and continue playing well and then we can switch focus to next season."
The Bulldogs will close out their season with back to back home games against Grand Valley State (Feb. 27) and Saginaw Valley State (March 1). Tip-off for GVSU is scheduled for 8 p.m. at Wink Arena.