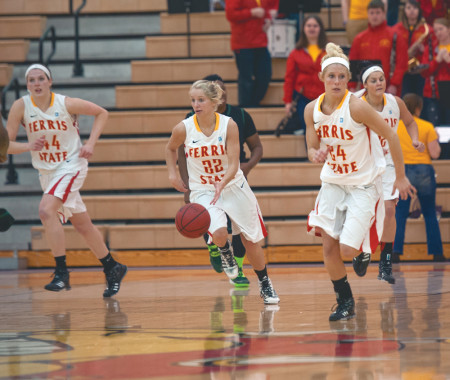 Ferris State's women's basketball team did not have the season they imagined they would.
The Bulldogs went 9-11 in the GLIAC conference and 9-13 in overall play with a total of 1544 points throughout their whole season compared to their opponents with 1561 points.
"Our season did not go as well as we know we could have done," senior guard Sarah DeShone said. "I am not happy with it, but I think we still might have a chance to make the tournament if we win our last two games. So that will be a whole different ball game because we are starting to finally play well together."
With two games remaining, their playoff hopes gone. Their season is mathematically over despite sitting ninth in the conference right now.
"In order to win these next two games, we are looking forward to a week's worth of hard practices that kick our butts and make us better," DeShone said. "These last couple of games have been my favorite because I feel like everyone has just let loose, and we are all starting to have fun playing finally."
DeShone has led her team with an average of 17.7 points per game, with sophomore guard Dena Droste in close second at 12.3 points per game.
The practice stat sheet head coach Colleen Lamoreaux-Tate created a few weeks ago has helped the Bulldogs extremely.
"I plan on using the stat sheet until it stops working," Lamoreaux-Tate said. "So far it has worked because it puts in the girls that work the hardest and that want to be in. It seems to have woke up the girls and it is exactly what was needed."
At the beginning of the season, Ferris lost one of their starters, senior guard/forward Ashley Rando, due to an injury, which slowed the team down due to her lack of leadership on the court.
Rando will be playing next year along side many other players who are returning, but DeShone will be ending her Ferris career this year and coming back next year as a grad assistant to help out the team.
"It is really sad to be almost done because basketball has always been my life, so it is going to be really weird without it," DeShone said. "I will be helping out the team next year, so I am excited to still have basketball as a part of my life."
The Bulldogs will face their last two opponents in tournament play this weekend on Thursday, Feb. 27, against Grand Valley State at 6 p.m. and on Saturday, March 1, against Saginaw Valley State at 1 p.m.