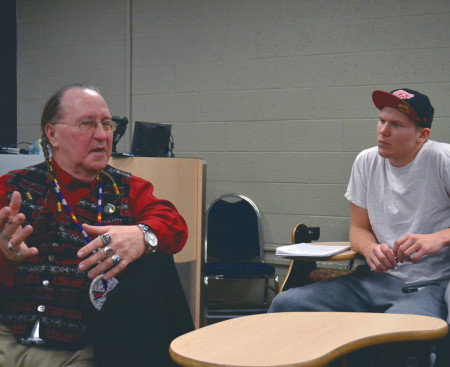 Terms including "redskin" and "featherhead" have been used in derogatory ways towards Native Americans for years.
More than 60 students, faculty and staff attended "Imaginary Indians," hosted by the Ferris Circle of Tribal Nations on Tuesday, Feb. 25.
Dr. Brian Baker, a sociologist specializing in Native American Studies and a professor at the University of California, Sacramento, presented the story behind his collection of fictionalized images of Native Americans created by popular white culture.
Baker's collection includes more than 400 artifacts he has collected for more than 10 years.
"There are basic signs and symbols that essentially evoke Native Americans," Baker said. "Words, phrases and ideas evoke products and objects represent ideas."
Multiple Ferris professors held the event as an extra credit opportunity for their students, including Dr. Patti Meyer, an anthropology professor.
"I have students in my classes that are Native American," Meyer said. "I figured it was a good opportunity for all of my students to learn about it."
A special exhibit by Baker is on display outside the Jim Crow Museum from Tuesday, Feb. 25 to March 28, showcasing things such as board games, pictures and Pocahontas Barbie dolls.
Ferris freshman public relations major Emma Thibault attended the event to earn extra credit for Meyer's class and also visited the display.
"There was a lot of interesting memorabilia," Thibault said. "Seeing it in person gives you a different point of view. It brings the issues to life."