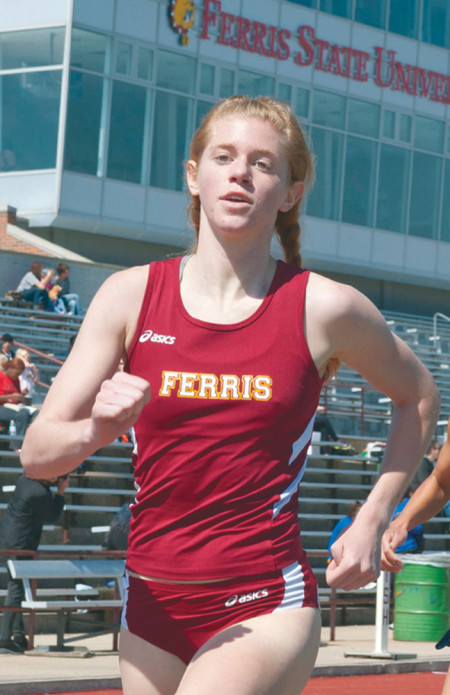 The Ferris State men's and women's track and field teams traveled to Hillsdale this weekend to take part in the GLIAC Indoor Championships.
Junior mid-distance runner Connor LaRowe was one Bulldog who was impressed with the level of competition at this year's championships and was looking to improve on his seventh place finish in the 800 meter run from last year.
"It's been super competitive this year. This is probably the fastest the GLIAC has ever been and everyone wants to go out and run their fastest," LaRowe said. "The biggest thing was that us racing well on Saturday night set the attitude for the rest of the team that we came all this way to compete on Sunday."
LaRowe finished 15th on Sunday in the 800 meter run with a time of 1:58.86. Senior Alex Bladecki finished 13th with a time of 1:57.28. The team earned three points from LaRowe and Bladecki, who were joined by senior Brian Murphy and junior Spencer Gerber in the distance medley relay with a sixth place finish, a time of 10:14.79.
On the women's side, senior Anna Rudd dominated the 3000 meter run with a time of 9:42.34 and took home ten points for the Bulldogs. Rudd was also a part of the distance medley relay team, which included seniors Breeann Ovokaitys, Zoey Hohmann and Alyssa Osika. The team placed third with a time of 1:51.50.
The women were without junior Samantha Johnson, who is one of the team's strongest runners. Johnson was sidelined with a knee injury that has been bothering her for three weeks.
The women finished ninth, while the men took last place.
"I went to the tune-up meet, but wasn't able to race due to the pain," Johnson said. "I've been cross training for over a week to keep my fitness. I had an x-ray and a bone scan last week and I'll be seeing the sports doctor for the results this week. Until I see her, I won't know how long or hopefully how short of a recovery I will need."
The NCAA National Championships take place in Winston-Salem, North Carolina on the weekend of March 14.