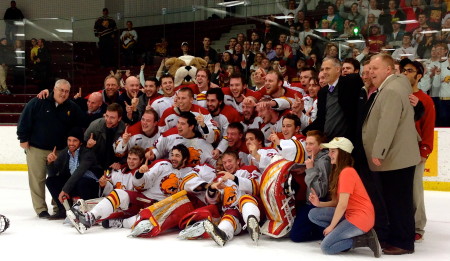 A fitting ending awaited the nationally ranked No. 7 and newly crowned WCHA regular season conference champion Ferris State hockey team inside Ewigleben Ice Arena
The Bulldogs finished their regular season undefeated on home ice in conference play.
Ferris honored one of the most successful senior classes in Ferris history prior to the game. Captain and defensemen Scott Czarnowczan, forwards Justin DeMartino, Andy Huff, Cory Kane and Garrett Thompson.
Fittingly, the seniors lead the charge. Thompson, one night after putting 11 shots on net, scored on his first of the evening just 1:03 into the contest on a 4-on-3 powerplay.
Czarnowczan backed Thompson's effort 51 seconds later when he rifled a shot that squeezed through Lake Superior State goaltender Kevin Kapalka to put Ferris up 2-0.
Again, the Lakers waited until the second stanza to jump on the board.
Colin Campbell, who scored the lone Laker goal in the March 7 contest, scored shorthanded 29 seconds into the second frame.
Ferris killed off back-to-back penalties following the shorthanded goal, and drained out the clock and the life of the Lakers.
The Bulldogs ended the Laker's season by sweeping them on home ice and pushing the once nationally ranked No. 14 Lakers into ninth place in the WCHA.
Ferris swept the last five home conference regular season series, dating back to Nov. 22-23 against the Alaska-Fairbanks Nanooks.
The MacNaughton Cup, given to the WCHA Regular Season Conference Champions, will make it's home in Big Rapids.
Ferris continues their journey on March 14-15 (16 if necessary) in the first round of the playoffs against the Bemidji State Beavers inside Ewigleben Ice Arena.