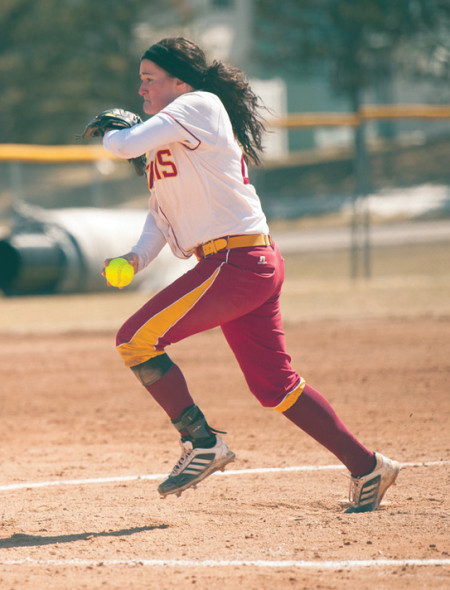 With the regular season home opener on the horizon, the Bulldogs might once again face inclement weather.
There is, however, a glimmer of hope on the radar as the as the Bulldogs prepare for their first home game against Ashland.
"If the weather cooperates, it will be that much more exciting to play at home, especially because we have a new resurfaced field," junior outfielder Jordan Maxwell said. "We've played well considering the practice conditions, but we expect to improve every game. We have yet to reach our full potential."
Due to the poor weather, the Bulldogs have been forced to practice indoors, which has made game preparations more difficult for players. Low ceilings eliminate pop-up drills and taking ground balls off a rubber floor fails to simulate the conditions of a dirt infield.
Despite favorable weather closing in, the Bulldogs are not taking any chances. Ferris' first year head coach Sarah Rotta has called upon the Bulldog army to help clear the field as fellow Ferris athletes and spectators gathered on the softball field on St. Patrick's Day to clear any remaining snow and ice.
Bulldog athletes are not the only ones hard at work to keep their home turf playable. Ferris State's grounds crew has been at it all spring. The crew, led by groundskeeper Will Gasper, has been working diligently to make sure Michigan's finest snows don't get in the way of ball games.
"Our grounds crew is doing an amazing job; they had a company from Grand Rapids come in to remove the snow, plus there are some chemicals on the field right now, so we are optimistic that we will be ready to go," Ferris Senior Women's Administrator Sarah Higley said. "We are all trying to plan ahead and just do the best that we can."
If field conditions are not up to par with Rotta or Ferris State Athletic Director Perk Wiesenburger, plans have been made to move the game in order to avoid cancellation. Softball games will be moved to Davenport University in the event of poor field conditions, which is a popular plan. Grand Valley's softball program has made DU its backup field, as well.
Just like their field preparations, the Bulldogs are also optimistic about the young season as conference play is getting ready to kickoff. The GLIAC opener against Ashland at home will be followed by another home stand double-header against Malone on March 23.
"It's going to be so great to get into our GLIAC season," freshman catcher/third baseman Sydney Hasselbach said. "I think we have an ideal setup in power, contact and slapper hitters."
Ferris State will open conference play against the Ashland Eagles on Saturday, March 22, on the FSU Varsity Softball Field, with first pitch slated for noon, weather permitting.