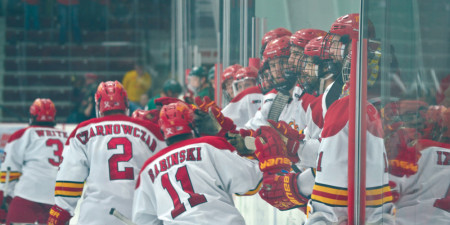 After a wild first round of the WCHA playoffs, the nationally ranked No. 6 Ferris State hockey team will head to Grand Rapids for the WCHA playoff semi finals.
The Bulldogs swept the Bemidji State Beavers in two starkly contrasting games to earn the right to play the Alaska Anchorage Seawolves in the semi-finals at Van Andel Arena.
On the first night, the Bulldogs' offensive attack buried the Beavers 8-0. Junior forward Justin Buzzeo and freshman forward Kyle Schempp both scored twice and the Bulldogs appeared to have Bemidji on the ropes.
In the second game, sophomore defenseman Brandon Anselmini scored 3:50 into the first, and Ferris appeared to be destined for a cruise control sweep.
With 5:23 left in the first, Ferris senior forward Cory Kane was dumped in a corner, where he kicked a pane of glass inadvertently and shattered it, showering the Dawg Pound in thick chunks of broken glass. There were no reports of injuries to spectators or players.
The 5:23 was added to the second period, and there was a 40-minute break while the ice crew replaced the pane and resurfaced the ice. The Beavers took the momentum and a 2-1 lead into the final minute of regulation, when Ferris sophomore forward Matt Robertson deflected in the game-tying goal with 45 seconds left in regulation.
Captain Scott Czarnowczan scored a game and series-winning shorthanded goal in double overtime to end an emotional struggle.
The Seawolves are fresh off a road sweep of the Alaska Fairbanks Nanooks. The Nanooks swept Ferris in Fairbanks at the beginning of March, which shows that Anchorage is more than just a dangerous team.
Anchorage swept a rival on the road in the playoffs in front of large crowds, giving Ferris something to think about.
The Bulldogs swept Anchorage on Feb. 21-22 in Big Rapids, and the Seawolves will be forced to make the long trip back to Western Michigan after a nine-hour bus trip back from Fairbanks for a 7:07 p.m. Friday night tango with the Bulldogs on March 21.
The 2:07 p.m. game on March 21 will be between the Minnesota State Mavericks and the Bowling Green State Falcons.
The championship game is slated for 7:07 p.m. on March 22.
For more information on the Alaska Anchorage Seawolves, check fsutorch.com for a full game preview, complete with coach and player interviews.