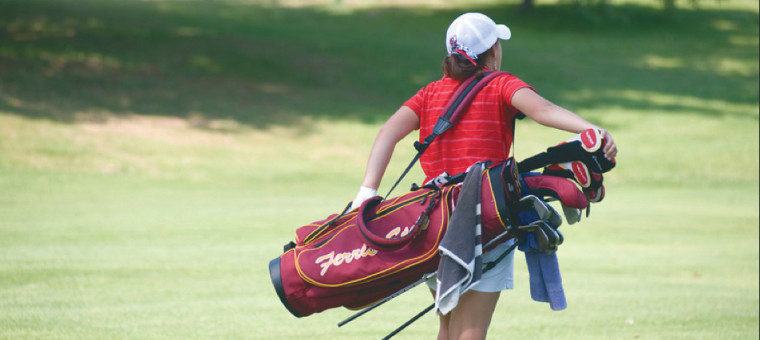 The Ferris State women's golf team traveled to Daytona Beach, Florida, to start off their spring season at the SMSU Spring Invitational.
The Bulldogs went down south not knowing what to expect since it was their first tournament of the year.
Head coach Michael Mignano picked six of his players based on their fall season scores for their first invitational: seniors Ashley Swanson, Emily Rohdy, and Jacqueline Mulder, sophomores Elizabeth Bauernfeind and Libby Berens, and freshman Kelsey McKinley.
All of these women went down to Florida as a team except McKinley, who went as an individual.
After the Bulldogs' first day, they came out in first place with just four shots ahead of their other competitors and McKinley, who tied with Rohdy with the score of 88.
Being in Daytona was a big difference for Ferris compared to being stuck inside to practice because of the harsh winter in the mitten.
"I love the sun and green grass! After 146 days from our last fall tournament to this one, it was nice to see the ball fly again," Bauernfeind said. "Plus, the sunburn is worth it for the tan lines."
Over the Bulldogs' break from fall to spring season, they have been working on their mental and physical game inside the classroom and the Pro Golf Management Center.
"As a team, we have been conditioning and making sure we are physically ready for this season," Bauernfeind said. "Individually, we all work on different weaknesses in our game but all for the same goal: make it to Nationals."
Having such a busy schedule for the weekend, the Bulldogs finally got some down time and chose to spend it doing what they love.
"We have had some down time to relax and go to the beach, but all of us have been cooped up and wanting to play, so we have been at the course every chance we get," Swanson said. "To us as a team, getting out and playing is relaxing and a great way to enjoy Florida."
All of these women have such great love for the game that they are most likely ready to put their physical talents to work in order to reach all the goals they set for one another.
"Since we all got on campus in the fall, every practice session, every tournament, every shot we practice goes towards the final goal of qualifying for nationals," sophomore Olivia Pizii said. "Sure, we all have individual goals set, but we work to all be on the same page to not only be GLIAC Champions but finally make it to nationals this year."
The Bulldogs ended their weekend with a score of 667, which put them 15 strokes ahead of everyone else and in first place. Bauernfeind took third individually and Berens took fifth individually.
Ferris will tee off Saturday, March 22, in Perry Park, Kentucky, at the Perry Park Spring Fling.