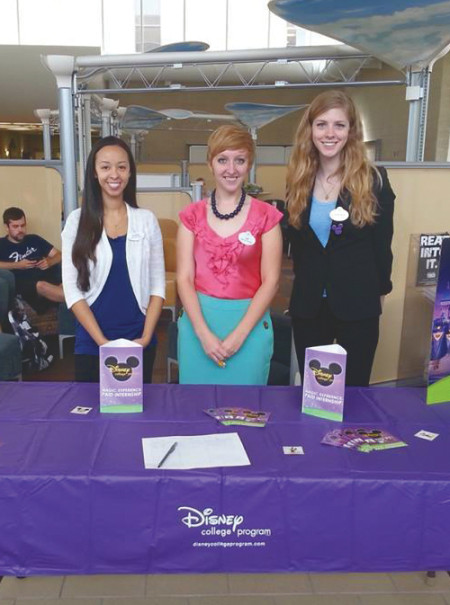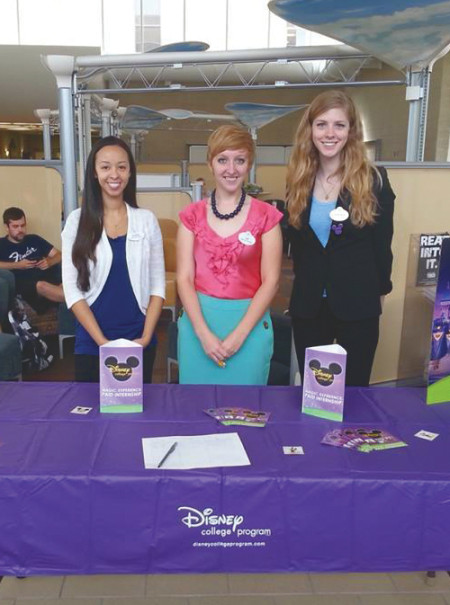 Ferris students have the chance to work at "the happiest place on Earth" through the Disney College Program (DCP).
The Disney College Program is available at both Walt Disney World Resort in Florida and Disneyland Resort in California.
Ferris human resource management senior Joyanna Powell participated in the DCP and plans to return upon graduating in May.
She worked as a guest show host, which is "a fancy name for a custodian" in Walt Disney World.
"The work itself was fun and sometimes more like play than work," Powell said. "I spent part of one shift assisting a Merchandise cast member with 'merchantainment' by playing basketball with guests and handing out Mickey stickers to anyone who made a basket."
On average, Powell worked 40 hours per week.
"I also worked with people from many different countries and cultures," Powell said. "It was a very eye opening experience."
Ferris resort management senior Jennifer Hager participated in the DCP program as a slide operator at Disney's Typhoon Lagoon and Disney's Blizzard Beach water parks.
"The Disney College Program has basically kick-started my growth as a person and my professional career," Hager said. "My personal confidence, self-esteem and guest service skills grew exponentially as well."
All roles available for DCP are entry-level positions and open to all majors. No prior experience is necessary.
Powell said the biggest benefit of DCP would be the skills she walked away with.
"Employers know that Disney is a top-notch company that employs only the best, so having them as work experience is also a real resume booster," Powell said.
Students who participate must be enrolled as a full-time or part-time student, meet school requirements and be at least 18 years old.
According to disneycareers.com, participants can take several different types of Disney Education Courses as a part of their learning experience. Disney doesn't charge tuition for their educational offerings.
"Participants should check with an academic advisor to determine if they will be charged tuition for course credit earned while participating in the Disney College Program," it read.
Workers receive discounts on select merchandise, dining, recreation locations and hotels. Cast members can also catch exclusive sneak peeks of new attractions, parks and resorts.
Housing for students in the college program is provided and costs are automatically deducted from paychecks weekly.
"I think a lot of companies love to have candidates, or employees, with a Disney background simply because they know Disney does guest service like no one else," Hager said. "They really want those skills to transfer into their own company or business."